The Impossible Tops Titanic At Spanish Box Office Despite Whitewashing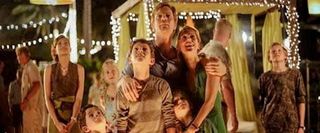 Sometimes a tragedy hits the world that results in so many deaths and so much carnage, that it seems impossible to comprehend. In 1997, James Cameron resurrected the tragedy of the R.M.S. Titanic with a lengthy drama that put a fictional romance at the center of many true tales. With the poignant storytelling and the jaw-dropping special effects, audiences got the terrifying sensation of what it might be like to be on a massive ship that's sinking fast into the deep, cold ocean below. And it proved an experience that hit home all around the world, resulting in a box office that exceeded $2.1 billion worldwide.
For the past 13 years since Titanic opened in Spain, it has been second only to Avatar when it comes to the top box office earner the nation had ever seen. But THR reports another true-life tragedy drama The Impossible has now usurped Titanic's spot, having earned more than 40 million euros with five consecutive weeks at number 1.
The film helmed by The Orphanage director Juan Antonio Bayona reveals the harrowing story of one family that was caught amid the chaos of the tsunami that terrorized Thailand in 2004. Produced out of Spain, the English-language drama recently broke records to become Spain's all-time highest grossing domestic feature. Now, with more than 5.6 million tickets sold, it has beat also Titanic's grosses within the country. Plus, it's only behind Avatar by .4 million tickets.
This news is sure to boost the buzz that the drama is already drawing from critics, who've been quick to praise the performance of its leads Naomi Watts and Ewan McGregor. But that's where this story has an odd wrinkle. See, The Impossible is based on the experiences of a Spanish family, but the high cost of the film's special effects required bankable stars, so the filmmakers made the central family British and cast Watts and McGregor. It seems Spanish audiences aren't bothered by the whitewashing of the family, but it is a troubling and thought-provoking element of this feature's success.
The Impossible opens in limited release in the U.S. on December 21st. For more on the movie, consult our Blend Film Database.
Staff writer at CinemaBlend.
Your Daily Blend of Entertainment News
Thank you for signing up to CinemaBlend. You will receive a verification email shortly.
There was a problem. Please refresh the page and try again.