Inception May Be Oscar's Last Chance To Award Originality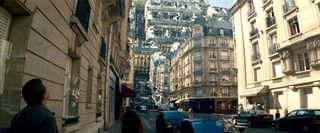 [ed. note: Our ongoing series of Oscar Rants continues with Eric's take on Inception. Watch for more Oscar Rants coming soon. Here's Eric...]
I cover nearly 200 movie news stories a month here on Cinema Blend. In addition to giving me an excuse to thinking about movies from the time I wake up till the time I go to bed, it also gives me a pretty good sense of what's going on in the film industry and what kind of projects are moving into development. You want to know the biggest thing I've learned after writing more than 1,700 articles for this site? For every original project there are three remakes, prequels, sequels, reboots, or adaptations.
In the industry's defense, from a business standpoint this makes all the sense in the world. When making a remake, prequel, sequel, reboot, or adaptation, you're developing something that you already know people will pay money to see. Sure, Ghost Rider was hated by critics and is judged by fans as being one of the worst modern comic book adaptations, but guess what? Ghost Rider made $228 million internationally, more than doubling its budget. So what happens? A sequel gets greenlit and the second adventure of the flame-skulled motorcycle enthusiast will arrive in theaters on February 17, 2012.
Unless you count the fact that the lead character's name is the same as one of the character's in the director's previous films, Christopher Nolan's Inception is a wholly original work, and a superb one at that. Blending the heist and action genres with elements of philosophy and psychology, the result is one of the smartest and most entertaining films of the year. At this year's Academy Awards it is all but a shoo-in to win the prize for Best Original Screenplay, but it's important that it takes Best Picture as well.
While there's no denying that Inception's nine competitors in the category are perfect examples of the best films 2010 had to offer, a win for Nolan's film would send a message to the entire industry: focusing on ingenuity, originality and imaginative storytelling can not only earn a studio prestige and hardware to put on a mantle, but can also be a method of earning $823 million at the international box office. Something needs to be done in order to encourage gambling and chance taking among studio bosses and there is no better way to get that message across.
In this year's Best Picture class, eight of the ten films weren't conceived as original projects. There are five adaptations (127 Hours, The Social Network, True Grit, Black Swan, Winter's Bone); one sequel (Toy Story 3); and two films based on true, historical events (The Fighter, The King's Speech). This leaves only Inception and The Kids Are All Right as the two wholly original projects up for the award. Certainly one of the best of the year, this prompts the question why only one should be singled out. The difference is $794,210,705.
Say what you will about the impact of money on art, the movie business is still a business and the bottom line will always come in the form of receipts and exposure. Put bluntly, Inception made twice as much money as The Kids Are All Right did in its first three day weekend. That might not mean a lot to those who consider the Lisa Cholodenko film the best of the year, but it means a lot to the industry and that's exactly what this rant is all about.
Then there's the issue of the Best Original Screenplay Oscar, which, as I mentioned above, is almost assuredly going to be given to Christopher Nolan. But allow me to explain why that's not enough, while using a parable. Back during the 2006 Oscars, George Clooney was awarded the Best Supporting Actor award for his role in Syriana. After taking the stage to accept his trophy he said, "Alright, so I'm not winning director." Saying this, Clooney was blatantly recognizing what really controls the Academy – politics. In much the same way Best Animated Film is used to recognize "cartoons" without delivering the top prize, Best Original Screenplay is a way to recognize those who actually attempt something new and creative (otherwise, why not eliminate the category and merely create an all-encompassing Best Screenplay award?). In the case of Inception, it will be silver medal when gold is deserved.
It's weird to say after spending so much time on this rant, but Inception stands zero chance to win Best Picture come February 27, but neither does The Kids Are All Right, Winter's Bone, Toy Story 3, or 127 Hours. The Academy has only given the top prize to a film that wasn't nominated for Best Director three times (Wings, Grand Hotel, and Driving Miss Daisy) and it's not going to happen again this year. That's criminal. Whether or not it can win, it's still incredibly important to recognize the concept. In 2010, only three of the top grossing 15 films were based on original screenplays: Inception, Despicable Me and [gulp] Grown Ups. There's an ever looming danger here, that eventually Hollywood will give up on the gamble of untested products entirely, and rely entirely on established brands. We're running out of time to celebrate originality, and there are only going to be so many opportunities to reward an imaginative film like Inception, with the accolades it deserves.
[Watch for more Cinema Blend Oscar Rants coming later this week right here.]
NJ native who calls LA home; lives in a Dreamatorium. A decade-plus CinemaBlend veteran; endlessly enthusiastic about the career he's dreamt of since seventh grade.
Your Daily Blend of Entertainment News
Thank you for signing up to CinemaBlend. You will receive a verification email shortly.
There was a problem. Please refresh the page and try again.