Interview: Don't Be Afraid Of The Dark's Bailee Madison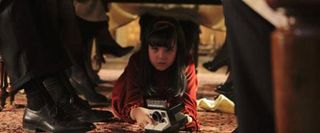 Having grown up watching horror films far beyond my years, it's tough to imagine an 11-year-old actually being in one. But actress Bailee Madison was just 9 years old when she stepped in front of the lens for director Troy Nixey in his big screen remake of the 1973 made-for-TV film Don't Be Afraid of the Dark. Even at such a young age she says she had no trouble separating fact from fiction, a good thing since this film is one that can keep you up and checking under the bed at night.
Madison leads as Sally Hirst, a little girl sent cross-country to live with her father, Alex, (Guy Pearce) in Rhode Island. Rather than shack up in a humble abode in a suburban neighborhood, Sally is stuck living at the creepy old Blackwood Manor, as that's the location her father is sure will put his architecture career back on track. By Alex's side is interior decorator and live-in girlfriend, Kim (Katie Holmes), who makes noble albeit unsuccessful attempts at earning Sally's affection. Desperate for a friend, when strange voices call out to Sally from the basement, she's compelled to investigate the option.
Within minutes of meeting Madison, it's quite clear she's not your average 11 year old. Not only is she incredibly poised and professional, but she's particularly knowledgeable when it comes to technical jargon and methods for improving her own craft. At the same time when she's not in front of the camera or behind a voice recorder, Madison's a kid at heart, sticking close to the junket buffet table, which was packed with Don't Be Afraid of the Dark cupcakes. Then again, so was I.
Get a taste for what the rising star is like for yourself in the video interview below and be sure to catch her in action when Don't Be Afraid of the Dark hits theaters on August 26th.
Your Daily Blend of Entertainment News
Staff Writer for CinemaBlend.
Your Daily Blend of Entertainment News
Thank you for signing up to CinemaBlend. You will receive a verification email shortly.
There was a problem. Please refresh the page and try again.