Interview: My Soul to Take Writer-Director Wes Craven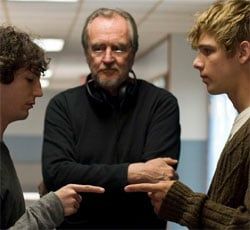 At just nine-years-old, seeing Scream in theaters back in 1996 was bound to be a profound experience. Of course, the film and the opening sequence in particular, terrified me for quite a while, but rather than scare me away from horror films it drew me in to the genre and especially to the work of Wes Craven. Craven has done just about everything from writing, directing and producing films, to just directing, to just producing to remaking his own work. He even edited some of his movies. He's an undoubtedly versatile filmmaker and that's as evident as ever in his latest production, My Soul to Take for which he acted as a triple threat yet again, writing, directing and producing.
On top of assuming multiple positions, Craven puts to use numerous themes in the story. My Soul to Take isn't just a slasher movie; it's a psychological thriller as well. It focuses on a character named Bug, a kid who is one of the Riverton Seven. Sixteen years ago the serial killer known as the Riverton Ripper was killed and on that same night, seven children were born, one of which was Bug. Sixteen years later the Ripper himself is assumed to be long gone, but legend has it, his soul exists in one of the seven.
Not only does the combination of the serial killer and the supernatural bring the film a unique texture, but so does the fact that this is Craven's very first 3D production. Even for a veteran like Craven, there are always new challenges to overcome from developing a multilayered story to casting setbacks to adopting new technology. We were fortunate enough to have some one-on-one time with the man himself during which he provided details on the entire process. Sadly, the fact that Craven is a very seasoned filmmaker also means he knows how to divert spilling Scream 4 secrets, so the chat was strictly My Soul to Take, but nevertheless, made for a great conversation. Enjoy the video interview below.
Your Daily Blend of Entertainment News
Staff Writer for CinemaBlend.