Jaime King To Fall In Love With A Blogger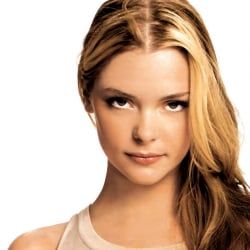 So the whole stereotype about us bloggers sitting at home in our pajamas and living off Ramen? It's pretty true. But there's another side to our lives that involves brushing our hair, putting on clean shirts and practicing social skills, and that's conducting interviews with the real-life celebrities we're normally sitting at home critiquing.
Despite my best efforts to get James McAvoy or Jesse Eisenberg to fall in love with me, none of these interviews have changed my life in the slightest-- but I guess in the Hollywood version, they will. Blogger-turned-producer Robert Sanchez (he of IESB fame) and his Death Ray films have greenlit Journies, a romantic comedy about a guy whose interview with a famous actress suddenly turns into a date.
Jaime King has signed on to star as the actress, with Grant Boucher making his directorial debut-- Boucher's previous work has been as a visual effects producer on movies like Titanic and Dogma. The film is being described as "Notting Hill with a touch of Entourage for the younger, hipper, Comic-Con crowd," a combination that I would find immediately nauseating if the people behind it weren't pretty damn familiar with the Comic-Con crowd they speak of. Not only is Sanchez one of the original fan bloggers, but King's husband and the film's producer Kyle Newman is the director of the ill-fated Fanboys, a movie about Star Wars nerds. Yeah, these guys know their stuff.
Staff Writer at CinemaBlend