Jessica Chastain Back For Mama 2? Here's What We Know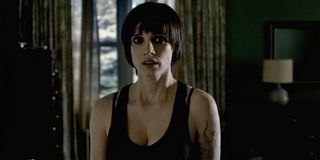 When your movie only cost $15 million to produce, but it goes on to earn ten times that worldwide, that's the kind of thing that makes studios drool. Such is the case with 2013's horror outing Mama, which was made on the cheap and raked in $146 million from the global marketplace. Universal recently green lit a sequel, but one question that remains is whether or not star Jessica Chastain will be back for more. Stranger things have happened, but at the moment it doesn't look like the actress will be return for Mama 2.
An inside source at her agency recently told The Wrap that Jessica Chastain is not expected to return to the spectral series. I can't imagine that comes as much of a surprise to anyone. In the intervening years, the 38-year-old actress has become one of the most sought after performers in Hollywood, so the idea of her coming back for what will likely be a low-budget sequel to a low-budget horror flick is pretty far fetched to begin with. But why not aim high?
Jessica Chastain isn't the only one who won't be back for Mama 2. Director Andy Muschietti, who helmed the Guillermo del Toro-produced original, isn't going to return either. But he has said since almost day one that he had no interest. Once Mama became a hit, sequel talk began percolating almost immediately, and just as quickly, he revealed that he had no interest in making another and that he wanted to move on to other projects. That track seems to have worked out well for him, as he is now set to direct the upcoming adaptation of Stephen King's It, taking over the job vacated by Cary Fukunaga.
Mama 2, however, is in interesting hands. Dennis Widmyer and Kevin Kolsch, the pair behind the 2014 indie horror hit Starry Eyes are in final talks to take the helm. Telling the story of a young actress desperate to make it in Hollywood, and who pays a dire price for it, Starry Eyes made waves on the festival circuit a couple years back and garnered them quite a bit of attention.
Universal tapping Widmyer and Kolsch is reminiscent of what Blumhouse did recently with Sinister 2. They hired Ciaran Foy, a filmmaker who was coming off of a creepy indie horror joint that made a name doing the festival rounds, Citadel, to direct the second installment of their burgeoning low-budget horror franchise. Let's hope the results are better this time around, as Sinister 2 isn't particularly great and underperformed at the box office.
In addition to being a financial windfall, Mama was a modest critical success to boot. Reviews were mixed, but generally positive, with reviewers praising the tension and creepy atmosphere. We'll see if the creepy lightning can strike twice. And though we won't see Jessica Chastain in Mama 2, we will see her later this year in The Huntsman, which looks totally bonkers.
Your Daily Blend of Entertainment News