Jessica Chastain Won't Be In Iron Man 3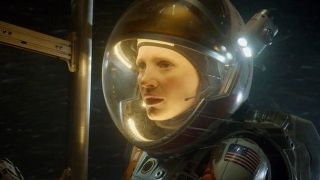 (Image credit: Disney / Fox)
With so much marvelous Avengers news to celebrate, please know I take no joy in sharing the deeply disappointing news that Jessica Chastain has officially walked away from Iron Man 3. Just two weeks ago the willowy ingenue, who broke out in a major way in 2011, was said to be incredibly close to signing on to play a "sexy scientist" opposite Robert Downey Jr.'s Tony Stark. With rumors that Iron Man 3 would be tapping into the Extremis comics line, this suggested Chastain would be playing Maya Hansen, a scientist working on a super-soldier serum. However, it is Chastain herself who has dashed our hopes of seeing her mix it up with Marvel, announcing on her Facebook page:
As you can imagine, after last year - where she scored widespread critical acclaim for her performances in The Tree of Life, The Debt, Take Shelter and her BAFTA and Oscar-nominated turn in The Help - Chastain's dance card is pretty full. She is currently lined up to appear in six 2012 releases, including Kathryn Bigelow's Zero Dark Thirty. The Navy SEAL-centered drama that will focus on the mission that brought an end to the threat of terrorist leader Osama bin Laden is now in production, and appears this is the scheduling conflict that will bar Chastain from joining Iron Man 3.
With this news out, Marvel will likely follow-up with an announcement that one of their other considered starlets - Diane Kruger (Inglourious Basterds), Gemma Arterton (Prince of Persia: The Sands of Time) and Isla Fisher (Wedding Crashers) to name a few - has officially signed on. Whoever is chosen will have big shoes to fill, not just because they were Chastain's, but because their performance will have to live up to the Chastain performance the overeager Iron Man 3 audience has imagined.
Your Daily Blend of Entertainment News
Staff writer at CinemaBlend.