Jesus Christ Himself Will Face Off Against Rambo And The Terminator In The Tomb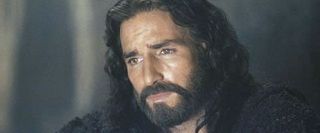 This summer movie audiences will get another chance to see their favorite action stars of yesteryear re-team in the testosterone-packed thriller The Expendables 2. But if that's not enough old man-on-old man action for you, no worries because Sylvester Stallone and Arnold Schwarzenegger are teaming up once again in the prison-set escape adventure The Tomb. In this action flick, helmed by 1408 director Mikael Håfström, Stallone plays a master security system builder who is literally trapped in a prison of his own design after being wrongfully convicted of a crime he didn't commit. Schwarzenegger is on board to play a fellow inmate called Church, and now JoBlo has uncovered that Jesus Christ himself—well, Jim Caviezel, who memorably played Jesus in Mel Gibson's The Passion of the Christ--has signed on to play the pair's tormenter, the prison's sure-to-be stern and probably corrupt warden.
The movie's producer Mark Canton, who has helped create such action epics as 300 and Immortals, recently divulged this casting news on The Matthew Aaron Show. He also gave a bit more detail to Schwarzenegger's character, revealing that he will aid in Stallone's escape attempt, meaning rather than Rambo and The Terminator facing off in The Tomb, they'll essentially join forces to defy Jesus Christ and break out of jail. I know my description here is kind of grandiose, but honestly it makes The Tomb far more interesting to me to imagine that this is the literal plot. As absurd as it is, that's a movie I'd see in a heartbeat.
In reality, the addition of Caviezel to the cast seems to assure The Tomb will have an earnest gritty vibe, in keeping with Håfström's reputation for dark thrillers. However, with Stallone and Schwarzenegger leading the flick, it's still sure to have plenty of insane action, shoulder surgery be damned!
Your Daily Blend of Entertainment News
Staff writer at CinemaBlend.
Your Daily Blend of Entertainment News
Thank you for signing up to CinemaBlend. You will receive a verification email shortly.
There was a problem. Please refresh the page and try again.