John Lasseter Officially Steps In As Cars 2 Co-Director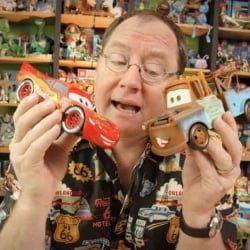 Last night Disney-centric blogger Jim Hill was invited by the studio to take a look at all the products they have coming for the rest of the year, which ranged from the mundane-- clothing and toys-- to some truly big news. Hill apparently learned that John Lasseter, the Pixar founder and Cars director, has stepped in as co-director of Cars 2 alongside Brad Lewis, who was making his directorial debut on the film after producing Ratatouille for the company.
This fits right in with a rumor we reported in February, claiming that Cars 2 was in trouble and Lasseter had stepped in to rescue the production. It's not time to jump to doom and gloom conclusions though; Pixar movies often go through laborious development processes, and even Ratatouille-- a perfect film in my opinion-- switched to Brad Bird as a director after years of development. Pixar has always acknowledged that the secret to their success is their willingness to tweak a movie until it's perfect, so while Lasseter's swooping in to Cars 2 might be evidence that the film is in trouble, it's also further proof that the studio will do everything to make sure their movies work.
Cars 2 is still set for release next summer, and after the enormous success of Toy Story 3 the pressure may be even greater for this to be yet another perfect sequel from the studio. I have my doubts, Cars being at the bottom of my Pixar list, but if anyone can fix it it's probably godfather Lasseter.
Staff Writer at CinemaBlend
Your Daily Blend of Entertainment News
Thank you for signing up to CinemaBlend. You will receive a verification email shortly.
There was a problem. Please refresh the page and try again.