Johnny Depp Won't Let His Tonto Be A Sidekick, Reinventing The Relationship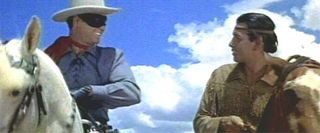 Disney's upcoming movie version of The Lone Ranger has always seemed pretty strange. The strangeness of the project starts with the casting of Johnny Depp as Tonto. In addition to not really being Native American, Johnny's also kind of too big a star to play the hero's sidekick. This weekend Depp confirmed what we'd all kind of assumed, that in this new version Tonto won't be a sidekick at all.
Talking to EW Depp explains his sympathy for the character, and his desire not to see him turned into just another hero-whipped Indian. He says:
Because of that, he seems determined to take his Tonto in a different direction. They're changing everything and don't be surprised if this Lone Ranger features Tonto as the main character, rather than that cowboy with the mask. Depp explains:
Johnny Depp isn't the first person to question the very strange nature of Tonto's relationship with the Lone Ranger. Actually, Bill Cosby did it better. Here's Bill:
Look, Tonto's always been kind of a thankless character. This is really the only way to do this movie in our modern environment of political correctness without the whole thing being labeled as racist. Bill Cosby knew it back in 1964 and Johnny Depp knows it now.
None of this exactly solves the problem of Johnny Depp not being Native American, but he's trying his best by using the media as an outlet to convince everyone that he's not just another white guy. Read any interview from Depp on the subject of this movie and you'll hear him talk about his Native American heritage. Except, well, even he's not very sure about what exactly his Native American heritage is. In that EW interview he tries to explain it this way, "My great grandmother was quite a bit of Native American, she grew up Cherokee or maybe Creek Indian. Makes sense in terms of coming from Kentucky, which is rife with Cherokee and Creek." In other words he's about as Native American as any other American whose family has been in the country awhile. He's about as Native American as I am, and trust me, even though my great great grandmother somewhere down the line was half Kickapoo I won't be allowed to open a casino any time soon.
Your Daily Blend of Entertainment News
Thank you for signing up to CinemaBlend. You will receive a verification email shortly.
There was a problem. Please refresh the page and try again.