A Jumanji Reboot Isn't A Bad Idea, Actually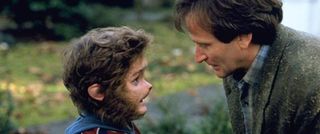 Sony Pictures is coming off a big victory with their ballsy reboot of The Amazing Spider-Man, which dared to revive the character just 5 years after the last trilogy ended, and was rewarded with $538 million worldwide so far for its troubles. Sure, you can call their choice "cowardly" instead of "ballsy," since they're basically just repackaging the same story and calling it new, but either way it paid off, which means you can basically guarantee more reboots where that came from.
But even if all of us knew to expect that cynical result, I don't think anyone figured Jumanji would be the first reboot out the gate. But in an interview with Columbia Pictures president Doug Belgrad, THR learned that the studio plans to "reimagine Jumanji and update it for the present," as part of an increased focus to "do more in the family space." Of course, Sony has already had a huge hit for family audiences with The Smurfs, and championed two very different kinds of brilliant animated films recently , Cloudy With A Chance Of Meatballs in 2009 and Aardman's Pirates! Band of Misfits earlier this year.
But the live-action Jumanji, with the charging animals and the energetic adventure, would be something that would appeal to kids and possibly broader audiences as well, in a way that The Smurfs just can't. And if you look back at the original Jumanji, made back in 1995, the early era CGI effects could use some serious updating. The people who were kids back when that came out-- i.e., people my age-- are now old enough to have kids of their own, which makes this one actually much more suitable as a reboot than Spider-Man. Could this be one recycled idea we can actually get behind?
Let us know in the comments if you're as cautiously optimistic about this as we might be, or if the word "reboot" alone has you running for the hills.
Your Daily Blend of Entertainment News
Staff Writer at CinemaBlend
Your Daily Blend of Entertainment News
Thank you for signing up to CinemaBlend. You will receive a verification email shortly.
There was a problem. Please refresh the page and try again.