Katie Jarvis Is The Only Actress Who Should Play Lisbeth Salander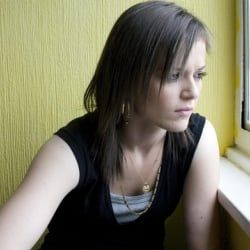 I've been arguing for months, as names like Carey Mulligan and Natalie Portman came up, that the only person who should play Lisbeth Salander in David Fincher's Girl With The Dragon Tattoo movie is a nobody. How could an actress we were already familiar with be expected to slip into this utterly odd and unique character? Wouldn't we all just know it was Ellen Page underneath the piercings, or Mia Wasikowska in the black lipstick? Why not just find an unknown actress capable of pulling off Lisbeth's smarts and intensity, rather than fake it with someone who's a big enough name to stand up there next to Daniel Craig on the poster?
When Deadline Hollywood reported the latest list of contenders at the end of last week I expected to dismiss them outright, but then they went and shocked me and included the one actress I've ever heard of who could actually play the part. You have never heard of Katie Jarvis unless you saw this year's micro-indie Fish Tank, but if you've seen that movie you know what I'm talking about-- Jarvis is utterly perfect for the role, and not just because she's got the wit and the brawn to pull it off, but precisely because barely anyone has heard of her.
Jarvis is apparently a late addition to the casting derby, and she's still up against Page, Wasikowska, Emily Browning, Sarah Snook, Rooney Mara, Sophie Lowe and Lea Seydoux. Jarvis is also likely at a disadvantage because Fish Tank is her only acting credit, and it's unclear if her performance's strength comes from actual acting talent or simply being exactly like the character in real life. But while Browning and Mara are unknowns who will have roles in major upcoming movies (Sucker Punch and Fincher's own The Social Network, respectively), Jarvis is still utterly under Hollywood's radar. It would be like when the few people who saw Ellen Page in Hard Candy were delighted to see her get cast in Juno and then instantly make the role iconic.
All reports say that Fincher is fairly close to picking an actress, and with the first film set to come out December 21, it's definitely time for things to get started. So, David Fincher, it's not too late for you to make the only good choice. Cast Katie Jarvis and watch a promising young actress become a superstar before your very eyes.
Your Daily Blend of Entertainment News
Staff Writer at CinemaBlend