Kung Fu Panda Writers Will Handle The Karate Kid Sequel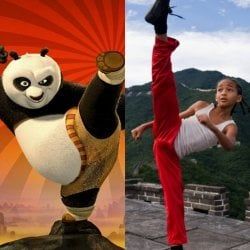 Just as Ralph Macchio's attempts to fit in with his classmates in Southern California led to a sequel back in the 1980s, Jaden Smith's lessons in kung fu in Beijing will get a follow-up story as well. This summer's The Karate Kid went quickly from a doomed remake of an 80s classic to a surprise hit, grossing nearly $300 million worldwide, and a sequel was greenlit almost immediately. And even though the sequel will probably carry the same misnomer The Karate Kid, they've actually hired writers with kung fu experience to handle it.
Well, sort of-- THR reports that Kung Fu Panda writers Cyrus Voris and Ethan Reiff have been put in charge of the sequel, which Sony is keeping under wraps for the time being. There's speculation that the action might move to the United States this time-- after all, the second original Karate Kid movie went from California to Japan-- but given that the first film was a giant advertisement for China, you'd imagine their government might try to hang on to the sequel as well.
Reiff and Voris also wrote the script Nottingham, which was so beloved by everyone who read it that, of course, it was mangled into the dull and lifeless Robin Hood (screenwriter William Martell wrote a great explanation of that process here). Clearly Reiff and Voris have reaped the benefits of that disaster, though, and hopefully will be able to bring the same spark to the Karate Kid sequel that made the first film such a surprising delight. And if they manage to keep the second one from running a bloated two hours, that wouldn't be so bad either. Just a suggestion, guys.
Your Daily Blend of Entertainment News
Staff Writer at CinemaBlend