Kyra Sedgwick Fighting Demons With Jeffrey Dean Morgan In Dibbuk Box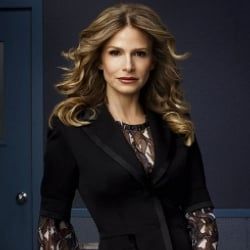 Later this year Kyra Sedgwick will wrap up her seventh and final season as the star of TNT's The Closer, one of the many female-centric cable series that have made perfect home for actresses no longer snagging great movie roles. But with her time on television coming to a close (ooh, get it? see what I did there?), Sedgwick is coming back to the movies after all, and for some reason is kicking things off with a role in a low-rent horror movie that Lionsgate is hoping will take the place of the Saw franchise.
According to Deadline Sedgwick will be starring opposite Jeffrey Dean Morgen in Dibbuk Box, a thriller about a girl who finds an antique box that contains a spirit "bent on devouring its human host." Morgan and Sedgwick will play divorced parents, who of course will wind up reuniting and maybe even falling back in love when the demon enters their life-- provided one of them doesn't bite it before the end, of course, which is entirely likely. You may remember the term "dibbuk" from the Yiddish prologue in A Serious Man; is it too much for me to hope that the filmmakers of this one give the Coens some kind of shout-out at the beginning? Yes? OK, fine.
Dibbuk Box is set for release on October 28 this year, which means shooting will start very, very soon.
Your Daily Blend of Entertainment News
Staff Writer at CinemaBlend