Leonardo DiCaprio Gave Birth To James Bond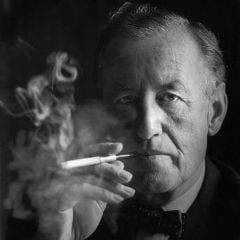 Leonardo DiCaprio is probably a bit too American to actually play James Bond, but that doesn't mean he can't play the man who created him. His Appian Way production company has picked up the rights to the screenplay Fleming, according to The Los Angeles Times, and DiCaprio seems likely to star in the biopic as Ian Fleming, who wrote the series of James Bond novels.
Producer Andrew Lazar says the movie won't actually be anything like the James Bond movies, but Fleming kind of was the real James Bond, so there must be a few overlaps. He worked as a Reuters journalist before becoming a spy for the British government, and according to the story, used his "playboy" exploits as inspiration for the character. I doubt he knew anyone actually named Pussy Galore, but you've got to imagine Fleming had some one-liners up his sleeve that worked as well as Bond's do.
DiCaprio is all about serious roles these days, but it might be fun to see him as a playboy—he sure has the power to woo women, as his supermodel dating past proves. I guess the only thing to worry about is Daniel Craig getting jealous, but it's hard to imagine DiCaprio competing with those abs, so I think both are safe for now.
Your Daily Blend of Entertainment News
Staff Writer at CinemaBlend