Little Britain Star Goes To Wonderland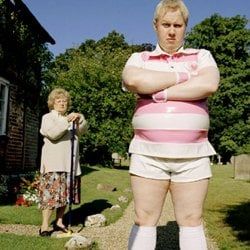 Though Johnny Depp has been getting all the attention for joining Tim Burton's Alice in Wonderland adaptation, there are still plenty of insane, attention-grabbing roles to be filmed. Slashfilm got one of the first scoops on casting for supporting roles, saying that Little Britain actor Matt Lucas will be doing double-duty as both Tweedledee and Tweedledum.
More comic relief characters than some of the spookier Wonderland figures (Cheshire Cat, anyone?), Tweedledee and Tweedledum will be a little less rotund in this version, based on conceptual art that Slashfilm saw. They're actually guessing the characters will be performance-captured, which seems a lot less fun than letting Lucas wear some kind of crazy costume and makeup. Either way, the guy is probably still thrilled to be joining Burton's bound-to-be-insane vision.
Your Daily Blend of Entertainment News
Staff Writer at CinemaBlend