Lucy Lawless Yodeling For Big Screen Xena Come Back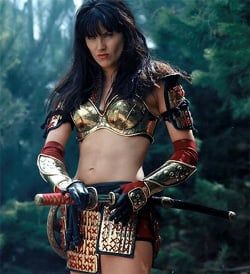 If your one wish is to see a Xena: Warrior Princess film battle its way onto the big screen, you aren't alone. According to WENN Xena herself, Lucy Lawless, is looking to get her 90's alter ego some work.
Apparently Ms. Lawless is getting up there in age (she's 41) and is hoping her for a Xena resurgence before she's too old to play the part. She says, "By the time somebody does come up with that I'm just going to be too old," she said. "And I'm really sad about that. I feel like it's a completely wasted franchise."
With Sam Raimi clearing up his Spider-Man schedule, it wouldn't be impossible for him grab the reigns, step back into the producer role and get this thing rolling. Big screen adaptations of older TV shows have, until now, really only worked as comedies, but Xena is sort of a parody of itself so this might just work. Keep your eyes open for endless nerd-driven online petitions cropping up trying to force this idea to happen, even though it probably won't.
Lawless is currently busy ripping off Gladiator and 300 in her Starz series Spartacus: Blood and Sand, but she sounds really serious getting this Xena project off the ground. The success of the 90's series coupled with the enthusiasm of its star may turn some heads at a studio, but it's going to take a lot to get a film like this off and running.
Your Daily Blend of Entertainment News