MGM Stuck On One Red Paperclip Pitch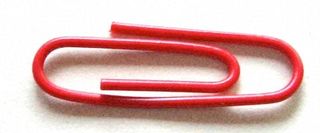 Aside from being a recurring premise on primetime sitcoms, bartering is generally an old-fashioned concept that seems out of date in these modern times, where the internet offers consumers easy access to an overwhelming world of goods and services. And yet, there's something romantic about the idea of trading what you have for what you need and want. This is part of the easy allure of Kyle MacDonald's strange but true story told in his offbeat memoir One Red Paperclip: Or How an Ordinary Man Achieved His Dream with the Help of a Simple Office Supply.
In 2005, MacDonald posted an ad on Craig's List and set out to see if he could trade his way up to from the tiny titular tool to "something bigger and better" until he made his way to his goal: a home of his very own. Combining modern technology with old school bartering and plenty of personality, MacDonald traded a paperclip for a pen, a pen for a doorknob and so on until he became a homeowner, much to the delight of his supportive and wildly patient girlfriend who'd been shouldering the rent while he set out on a dreamer's quest.
It's the stuff of movies, right? Well, MGM agrees and it currently in talks to buy a pitch based on the book adapted by Maria Maggenti, who wrote and directed The Incredibly True Story of Two Girls In Love. According to Variety's item, it seems Maggenti has plans to turn MacDonald's quirky bartering story into a romance about one man's journey to prove himself to his girlfriend. And frankly, this has hopeless romantic written all over it, so that seems like a great approach. Hopefully MGM will commit to One Red Paperclip soon.
Your Daily Blend of Entertainment News
Staff writer at CinemaBlend.