Marcia Gay Harden, Jeffrey Dean Morgan, & Vincent D'Onofrio Join Supreme Ruler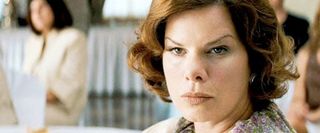 Director Duane Edwards is set to make his feature film debut with a pretty stellar cast. Marcia Gay Harden, Jeffrey Dean Morgan, Brian Geraghty and Vincent D'Onofrio have all signed on to Supreme Ruler according to Deadline. Set in a small Midwestern town, the feature centers on Steve (Morgan), a local Buffalo lodge member who is campaigning to become the group's "Supreme Ruler." D'Onofrio will play an elder lodge member and rival in the heated lodge election, while Harden will take the role of a "Supreme Ruler" from another district that Steve meets while rallying support at a convention in Chicago. There's no word at this time as to what role Geraghty has garnered.
Likewise, there's no mention of what genre in which Supreme Leader is intended to fall. Now a quick glance at Edwards' list of short films reveals he has a penchant for drama. Moreover, the cast he's pulled together is well known if not heralded for their dramatic chops. Jeffrey Dean Morgan is far better known for his gruff roles in films like Watchmen and Texas Killing Fields than his chipper turn in comedies like The Accidental Husband and Kabluey. Marcia Gay Harden has won an Oscar for her role in the harrowing biopic Pollock, and was nominated once more for her dark turn in Mystic River. Vincent D'Onofrio has forged a solid reputation as a hard-ass with a decade of Law & Order: Criminal Intent, and Brian Geraghty is best-known for his role in the Oscar-winning war drama The Hurt Locker. Still, I'm thinking Supreme Ruler could be a comedy.
That's based almost entirely on the fact that the premise's stakes seem too low to prove compelling for a drama, so Supreme Ruler may be a dark comedy that serves as a sort of satire to the seemingly unavoidable corruption that political campaigning is heir to. Now, a script like that sounds like something these actors could really sink their teeth into, so I'm hoping I'm right.But one look at Edwards' painfully poorly designed professional website gives me little faith in him and by extension Supreme Ruler. (For the full awfulness, be sure to have your speakers turned on.)
Staff writer at CinemaBlend.
Your Daily Blend of Entertainment News
Thank you for signing up to CinemaBlend. You will receive a verification email shortly.
There was a problem. Please refresh the page and try again.