Matt Dillon, Jack Black And Renee Zellweger Now Up For Matt Weiner's First Film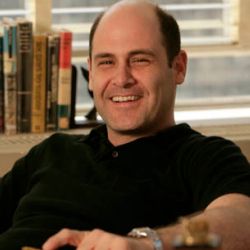 When the third season of Mad Men wrapped up about a year ago, Matthew Weiner made the decision to delay his feature directing debut You Are Here until 2011, in order to focus on one more season about Don Draper and his adventures. Now that start date is looming, and the cast that had been attached a year ago-- Jennifer Aniston, Bradley Cooper and Zach Galifianakis-- has been replaced by an entirely new lineup, but things are still looking set to start soon.
Pajiba didn't just uncover the new casting lineup-- which is still tentative and subject to change, of course-- but they provided the first details, which are far more like a Judd Apatow comedy than anything you might see on Mad Men:
The heir-- an "unemployable, paranoid pothead"-- is the role they're presuming Black would play, while Dillon would be the skirt-chasing roommate and Zellweger the uptight sister who is angry that all the wealth has been left to her slacker brother. There's also an offer out to Rachel McAdams to play the father's widow, a younger bohemian type who both the son (ew!) and the roommate start to fall for.
They're saying filming could start early next year, but given how possessive Weiner can be over even the smallest Mad Men developments, it's hard to imagine him taking his attention away long enough to make a feature film. Then again, with a cast this strong lined up-- OK, Zellweger has been better, but everyone else works!-- maybe he wants to go ahead and get it done before he spends an entire six months figuring out what Sally Draper will do when attending Woodstock. Because, come on, you know that's coming.
Your Daily Blend of Entertainment News
Staff Writer at CinemaBlend