Matthew McConaughey's Interstellar Character Has The Perfect Reaction To The Star Wars 7 Trailer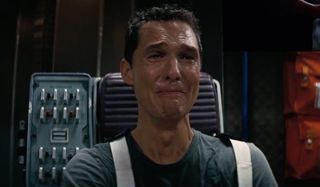 The second Star Wars: The Force Awakens trailer debuted online Thursday during the Star Wars Celebration festivities, and it was just beautiful. It was more than any of us could have imagined or hoped for. The glistening sheen of the Chrometrooper brought a tear to our eyes, and the return of Han Solo and Chewbacca made us throw our hands up in the air with joy. But no one had quite the physical reaction as Matthew McConaughey's Interstellar character.
It's moments like this when we realize just how truly magnificent the Internet is. Some genius by the YouTube username of oskararnarson mashed up Interstellar with the Star Wars 7 trailer to create the pitch perfect reaction video. He took the scene in which McConaughey's Cooper awakens from his hibernation sleep chamber and rushes to a broadcast screen to see if his children sent him any transmissions. In this spoof, rather than what the film showed him — years' worth of video messages from his son and one from his daughter — he sees the new Star Wars 7 trailer. And he breaks down in tears over seeing the characters, setting, charred Darth Vader helmet and more.
If we're being honest with ourselves, we had the same emotional response, but we took the advice of Armand Goldman from The Birdcage and kept it all inside. This sort of reaction happens when a beloved franchise is involved and the filmmakers have been keeping everything except for a minutes' worth of out-of-context footage and a couple character names under wraps. The first teaser trailer dropped just four months ago, and since then we've been dissecting the few scenes we were afforded to death. Why is John Boyega's Finn in a Stormtrooper suit in some sort of desert, and why does he look like he just crapped his pants with fear? Who is this strange hooded Sith lord? We were able to learn a few details since then, but mostly what we've had to go on has been rumor. So, yes, some of us were brought to tears over finally getting more footage. You try watching it and not become overwhelmed with its glory.
So far, we know Star Wars: The Force Awakens will feature a new trio of core characters: a Stormtrooper who's in great danger, Finn; a scavenger, Rey (Daisy Ridley); and the best friggin' pilot in the galaxy, Poe Dameron (Oscar Isaac). According to details gleaned from the Celebration panel and the trailer, Finn encounters Rey on the desert planet Jakku, where TIE fighters come swooping in for an attack. Meanwhile, Dameron has been sent on a mission "by a certain princess," which leads him to cross paths with Finn and their fates are forever intertwined for it.
Star Wars: Episode 7 hits theaters on December 18.
Your Daily Blend of Entertainment News
Your Daily Blend of Entertainment News
Thank you for signing up to CinemaBlend. You will receive a verification email shortly.
There was a problem. Please refresh the page and try again.