Mickey Rourke To Star Opposite Jeffrey Dean Morgan In The Courier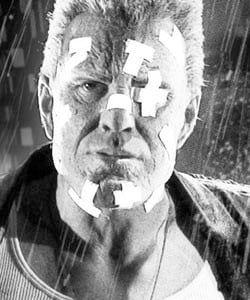 If you're not on board for the Mickey Rourke comeback tour, then there might be something wrong with you. Ever since Sin City back in '05 the man has been getting role after role and knocking every one of them out of the park, including his role in The Expendables, in which he is the only meathead doing any real acting.
And the Rourke train shows no signs of slowing down, as the hulking actor has just signed on to join The Courier, a Jeffrey Dean Morgan vehicle about a tough courier (clever) tasked with delivering a briefcase to a baddie that can't seem to be found, according to The Wrap. Of course, there's plenty of obstacles in his way, of which Rourke may be one.
Also appearing in the film is Til Schweiger, who you may all know better as the badass Nazi killer Hugo Stiglitz in Inglourious Basterds.
Rourke just came off of Passion Play, Mitch Glazer's TIFF film that our own Katey Rich describes HERE (it stars Megan Fox, and there's ninjas. What?) Keep a sharp eye out, since the bad festival reviews probably mean it will have a short theatrical run. But if you don't care to see anymore arthouse Rourke movies, just hold out for The Courier, which will start shooting at the end of the month in New Orleans.
Your Daily Blend of Entertainment News
Thank you for signing up to CinemaBlend. You will receive a verification email shortly.
There was a problem. Please refresh the page and try again.