Monsters, Inc. 2 Closer To Happening?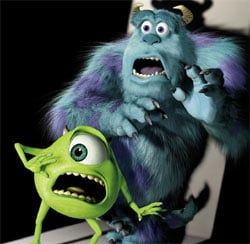 For months now we've heard rumors that Disney and Pixar might be planning a sequel to Monsters, Inc.. Pixar, once avowed sequel haters, seems to have jumped feet first into the world of follow-ups recently. Toy Story 3 is already on the way.
Now we have, what would seem to be, something closer to confirmation of Monsters Inc. 2 plans. Disney focused blog Jim Hill has been on the alert, and they've spotted Disney registering the domain name "Monsters2.com".
While normally the registering of a domain name might simply be a pre-emptive strike against squatters, Jim Hill thinks in this case it might actually mean something. Disney has recently registered a couple of other domain names, both of which coincide with the promise of a sequel. Unfortunately that sequel is Beverly Hills Chihuahua 2, a direct to dvd effort.
Your Daily Blend of Entertainment News
Thank you for signing up to CinemaBlend. You will receive a verification email shortly.
There was a problem. Please refresh the page and try again.