Next Generation Of Karate Kid Sequels Gets Started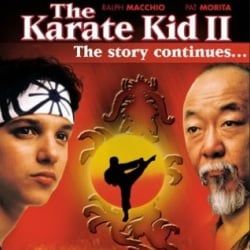 It's hard to get away with remaking a movie that was popular enough the first time around to merit sequels, but if you manage it, you've guaranteed yourself a franchise. There was pretty much no doubt the minute The Karate Kid became a hit that Sony would follow in the footsteps of the original and greenlight a sequel. Now, according to Deadline, that process has begun. They're meeting with writers now and asking them to pitch ideas for where the second movie will go.
It's safe to assume that the next film won't go the Hilary Swank route and recast Jaden Smith, but it is a little hard to guess what they might have planned, given that the original second film transplanted the action to Asia, and they've already done that the first time around this time. I wonder if they'll pursue another Chinese-American co-production, given that it was an effort to save money the first time around, and now they'll be able to get pretty much all the funding they'd need. The Chinese landscape played an integral role in the first film, but facing the need to shake things up for the second go round, they may switch locations entirely.
Feel free to pitch your ideas for another Karate Kid sequel below. Right now I'm counting on a Ralph Macchio cameo and another variation on "wax on, wax off."
Your Daily Blend of Entertainment News
Staff Writer at CinemaBlend