Olivia Munn Joins X-Men: Apocalypse As A Fan-Favorite Character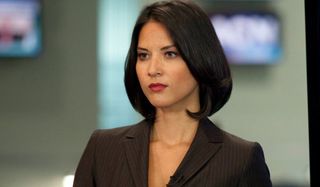 Another day, another mutant being added to Bryan Singer's X-Men: Apocalypse, and the ever-expanding X-Men universe. Rumors that the mutant telepath Psylocke would surface in Singer's next X-Men movie have been confirmed by the director, and we even know right off of the bat who will play her:
As you can see in Bryan Singer's Instagram post, former Attack of the Show! co-host, Newsroom standout, and frequent movie supporting player Olivia Munn has bagged the latest mutant persona. Munn has dabbled in comedy (The Babymakers) and big-budget affairs (Iron Man 2, Date Night). Her best role to date probably was a turn in Steven Soderbergh's Magic Mike. This will be her highest-profile role, for sure, but a lot of that depends on how Bryan Singer chooses to use Psylocke in the mix of mutants.
I say this because every time we mention X-Men: Apocalypse, we talk about new characters that will jockey for screentime in the summer blockbuster. Angel, Jubilee, Quicksilver and Nightcrawler are just a few of the new names we're hearing alongside all of the characters we already know are supposed to be on the sequel, from Xavier (James McAvoy) and Magneto (Michael Fassbender) to Beast (Nicolas Hoult) and Mystique (Jennifer Lawrence). And that's before we even mention the villain, Apocalypse (Oscar Isaac). That's a huge cast, and even though Singer recently did it with X-Men: Days of Future Past, I'm starting to worry this is getting overcrowded.
Psylocke has powers that are similar to that of Jean Grey. A master of telekinesis and telepathy, she eventually acquired the body (and powers) of a female ninja. She is a character who has changed multiple times of the years, and it will be interesting to see how Singer approaches her. For now, do you like the casting of Olivia Munn? Weigh in below.
Movie junkie. Infatuated with comic-book films. ReelBlend cohost. Resident dad. Extroverted introvert. Wants to see the Snyder Cut. Managing Director at CinemaBlend.
Your Daily Blend of Entertainment News
Thank you for signing up to CinemaBlend. You will receive a verification email shortly.
There was a problem. Please refresh the page and try again.