The Olympus Has Fallen Sequel Has Finally Found Its Director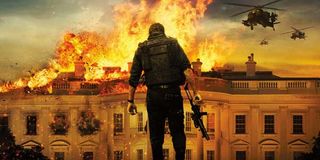 Olympus Has Fallen was a big, chubby hit last year, getting director Antoine Fuqua back on the director A-List. But when the time came to put together a sequel, Fuqua got busy, and is currently following up the upcoming The Equalizer with Southpaw. That left the director's chair open for the upcoming sequel, London Has Fallen, and now it can be filled.
The Hollywood Reporter is saying that filmmaker Fredrik Bond will the director of London has Fallen, which will feature the continuing adventures of Agent Mike Banning. Gerard Butler returns to essay the Banning role, and he'll be rejoined by President Asher (Aaron Eckhart) and Speaker Trumbull (Morgan Freeman), aka the toughest Oval Office in the history of movies.
Now there's also a synopsis for the film, which involves another disaster that strikes while the aforementioned trio are in London at the funeral of the recently-deceased Prime Minister. No other details have been revealed. Could the Prime Minister secretly controlling things from the grave?! The current script is penned by Christian Gudegast (A Man Apart). Butler's expected to shoot the film soon before shifting into Geostorm early next year. That's a pretty action-heavy period for the 300 star.
Bond has been mentioned as a contender for jobs as diverse as Pirates Of The Caribbean: Dead Men Tell No Tales and this blockbuster sequel. Known for helming music videos, Bond made his debut with Charlie Countryman, the 2013 romantic thriller starring Shia LaBeouf. That film - which had its world premiere at Sundance before getting a limited theatrical release - followed a vacationing American as he became involved with the wrong girl and a host of gangsters. It's the sort of film festival movie that throws everything and the kitchen sink into the story, overcome with quirk, magical realism, and intrusive soundtrack choices. To Bond's credit, it has a bold, stupid, youthful energy that is missing from most big studio films, suggesting that Bond has plenty to offer in the mainstream film world. It's also the sort of feature that feels as if it was monkeyed with in post, re-edited and reworked to within an inch of its life to make some sort of linear sense that ultimately proves unsatisfying. Sometimes it's better to stop making sense. Catch the trailer below.
[[ i.london fallen ]] <="" has="" i=""> starts filming this October for an October 2, 2015 release date. That's a busy date: Robert Zemeckis' The Walk shares real estate on that weekend, as does Daniel Radcliffe's Frankenstein. Will one of those movies balk? Do the other two fear the fury of Mike Banning? We'll see soon.
Your Daily Blend of Entertainment News
Thank you for signing up to CinemaBlend. You will receive a verification email shortly.
There was a problem. Please refresh the page and try again.