Omar Comin': Michael K. Williams Joins Twelve Years A Slave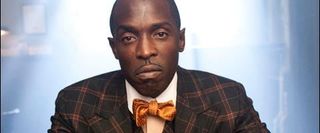 Omar comin'.
Though the HBO series The Wire was never a ratings success on the level of Game of Thrones, it's attracted a dedicated and ever-growing fan base over the years, and every single one of those fans knows what the above sentence means. According to Deadline, Michael K. Williams-- who played the charismatic, violent and constantly surprising Omar on The Wire-- has joined the cast of Twelve Years A Slave, the next film from Shame director Steve McQueen that's currently filming in New Orleans.
There are so many great things to process about this movie that we need to slow down a little bit and consider them one by one. First up, there's Williams, who has worked on Boardwalk Empire and a brief, underutilized guest spot on Community since The Wire ended, but still feels like he's waiting for a role that gives him a fraction as much potential as Omar did. It's unclear if Twelve Years A Slave will be that role-- after all, shooting has already begun, which suggests the part isn't that big-- but he'll at least be stealing scenes from some excellent company. In addition to Chiwetel Ejiofor in the lead role, as a free black man kidnapped and sold into slavery in pre-Civil War America, the cast includes Brad Pitt, Michael Fassbender, Garret Dillahunt, Paul Dano, Pariah breakout Adepero Oduye and even SNL's Taran Killam.
And finally, there's Steve McQueen, who had a career in the world of high art before he made his directorial debut with the experimental, gripping drama Hunger, which also introduced the world to Michael Fassbender as the Irish political prisoner Bobby Sands. The two teamed up again last year for Shame, and while that movie didn't take off in awards season the way many expected, it clearly gave McQueen enough status to get Twelve Years A Slave going. It will be McQueen's first period film and first film with a large ensemble cast-- do you really need any more reasons to be excited about this?
Staff Writer at CinemaBlend
Your Daily Blend of Entertainment News
Thank you for signing up to CinemaBlend. You will receive a verification email shortly.
There was a problem. Please refresh the page and try again.