Order Titanic Blu-Ray From Amazon, Get Three Bucks Back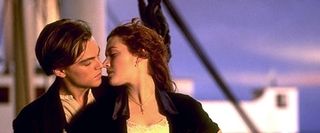 With Titanic back in theaters with a jazzed-up 3D version, it's inevitable that another home-video release would be on the horizon. And sure enough, the doomed ship will be available for docking in fans' living rooms this September 14th. If you're planning to pick up a copy, it might be worth noting that all three versions of the release are now available for pre-order via Amazon (opens in new tab). Even better, if you place your order anytime through May 13th, you'll get a $3 Amazon gift card along with your disc when it ships.
When Titanic hits shelves in September, it will be available in the standard-issue formats. First up, a $54.99 combo pack that includes a 3D copy, a regular Blu-ray, a digital copy, and an UltraViolet digital copy (available for pre-order at $27.99). Next, there's the $44.99 regular Blu-ray combo pack that bundles a Blu-ray, a DVD, and the two digital copies ($21.99 for pre-order). Finally, there's a bare-bones DVD copy that lists for $29.99, but is currently going for $15.49.
There's no official word yet from Paramount on special features, but given how high profile the 3D theatrical re-release has been, I'm betting it will be nicely tricked out. If we're lucky, maybe they'll include an alternate audio track that removes that bloody Celine Dion song. In the mean time, you can take a gander at the cover art for all three versions of the release in the gallery below.
Image 1 of 3
Your Daily Blend of Entertainment News
Your Daily Blend of Entertainment News
Thank you for signing up to CinemaBlend. You will receive a verification email shortly.
There was a problem. Please refresh the page and try again.