Paul Potts, The Original Susan Boyle, Gets A Movie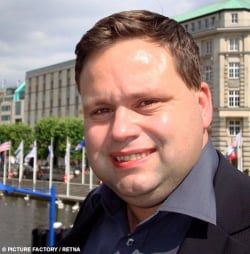 Before Susan Boyle became the cross-Atlantic sensation based on her Britain's Got Talent TV appearances, we had Paul Potts, a cell phone salesman who busted out a stunning aria on the British reality show and, as is the only way to become famous these days, became a YouTube sensation as a result.
And of course, the movie version of his life was only a few steps behind. Honestly, it surprises me we went through the entire Susan Boyle thing without a Paul Potts biopic going into production. Paramount has finally picked up the gauntlet, and according to THR will begin production on One Chance, the Potts story that will likely be directed by Becoming Jane's Julian Jarrold.
They're already being canny about the marketing for this, too; production is being fast-tracked so that the film will be ready by next summer, just in time for the season finale of Britain's Got Talent. Simon Cowell, known over here as the American Idol meanie, also has a role in Britain's Got Talent, and will produce the film. They don't seem to be angling to have Potts play himself, given that casting is to begin soon, which either means that Ricky Gervais' phone is about to start ringing off the hook, or another pudgy, unknown British man is about to have his moment in the sun.
Below is one of Potts' performances, just as a reminder of what's in store.
Staff Writer at CinemaBlend
Your Daily Blend of Entertainment News
Thank you for signing up to CinemaBlend. You will receive a verification email shortly.
There was a problem. Please refresh the page and try again.