Phillip Noyce To Direct A Remake Of Jean Claude Van Damme Thriller Bloodsport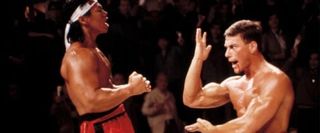 There's pretty much no limit to the 80s movies that Hollywood is willing to remake, but still, I don't think anyone ever expected Bloodsport to be on deck. The 1988 action film starred Jean Claude Van Damme as an American soldier trained in martial arts who travels to Hong Kong for an elite, "no holds barred" tournament against the direct orders of his superiors; it's hard to imagine what modern actor can possibly fill JCVD's ass-kicking shoes, and yet Screen Daily reports that Salt director Philip Noyce has been set to handle the remake, with Robert Mark Kamen writing the script.
Unsurprisingly, the story's details will be updated-- the main character this time is an Afghanistan war veteran, and he goes to Brazil "to recover from the violence he has experienced," only to find himself in, yes, a martial arts contest. I'm not entirely certain why they've transplanted the action to Brazil, though it could easily be just because two of the year's biggest hits so far, Fast Five and Rio, took place in Rio de Janeiro. And given that Noyce revealed back in December that he wasn't all that interested in directing Salt 2, he's plenty free to take this one on. Now how exactly they'll find an actor with JCVD's martial arts skills and crazy charisma is another question entirely.
Staff Writer at CinemaBlend
Your Daily Blend of Entertainment News
Thank you for signing up to CinemaBlend. You will receive a verification email shortly.
There was a problem. Please refresh the page and try again.