Jean-Claude Van Damme Has An Action Movie Coming To Streaming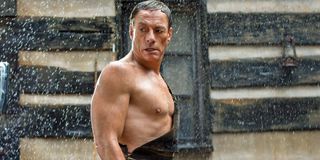 Jean-Claude Van Damme remains one of the most iconic names in the action genre. So it was only a matter of time before he teamed up with one of the most iconic streaming platforms in the world. Now, the actor has a new action movie in the works for Netflix -- and it sounds like a bit of a departure from his usual projects.
The Last Mercenary is currently filming in France and will feature French dialogue as well. Jean-Claude Van Damme stars as a retired secret service agent who has to help his son clear his name after he is falsely accused of trafficking by the French government. They are up against some pretty formidable foes, including but not limited to the mafia. In other words, it's doesn't sound like a very easy task.
According to Variety, Jean-Claude Van Damme has expressed excitement over his participation in The Last Mercenary. He said he was drawn to the film because of its combination of emotion, action and humor. He also said he was looking forward to tackling the action-comedy genre and taking it on in his own unique way. Since he's primarily known for less-comedic films like Timecop and Street Fighter, it will definitely be interesting to see him tackle the genre -- and of course, as always, it will be fun to see him kick some ass.
This isn't the first project that Jean-Claude Van Damme has made for a streaming platform. He starred in Amazon Studio's 2016 web series, Jean-Claude Van Johnson -- which, incidentally, also had some comedic elements. That was cancelled after one season, though apparently Jean-Claude Van Damme was okay with that. The Last Mercenary is the first Netflix film that he has signed onto, though -- and it will be interesting to see whether this leads to more collaborations between the popular streaming platform and the iconic action star.
The Last Mercenary is the latest in a string of high-profile action films for Netflix. After the success of Extraction and The Old Guard, it's easy to understand why the platform would want to invest in the genre. Netflix also recently announced Trigger Warning, an action film starring Jessica Alba and directed by Mouly Surya.
David Charhon is directing The Last Mercenary, and he also co-wrote the film with Ismael Sy Savane. It will also star Alban Ivanov, Samir Decazza and Assa Sylla. Netflix hasn't announced a release date for the film yet. Luckily, there are plenty of other action movies currently streaming on Netflix to tide you over until this one arrives.
Do you think The Last Mercenary sounds interesting? Are you excited to see Jean-Claude Van Damme in another comedic role? Let us know in the comments!
Your Daily Blend of Entertainment News
Thank you for signing up to CinemaBlend. You will receive a verification email shortly.
There was a problem. Please refresh the page and try again.