Jean-Claude Van Damme Has His Own Version For Why He Left His Predator Role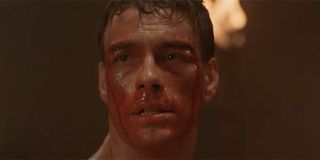 '80s action icons Arnold Schwarzenegger and Jean-Claude Van Damme didn't square off in a movie until decades after their primes in 2012's The Expendables 2. They almost crossed paths much earlier though, because before his breakout role in Bloodsport, Jean-Claude Van Damme was cast to play the titular alien hunter in Predator. There are seemingly countless stories about why the Muscles from Brussels left that role, but he has his own version of what happened, as he explained:
The Predator originally didn't look like how we know it now. When Jean-Claude Van Damme was a part of the movie, it looked way less awesome and more like a lobster. From what JCVD told The Hollywood Reporter, it sounds like getting that costume molded for him was an extremely unpleasant experience. The actor felt like he was unable to breathe as the hot cast was poured all over his body.
It sounds torturous and claustrophobic, and Jean-Claude Van Damme admits that he didn't think he was going to make it. Then, when the actor was wearing some sort of stilts and was asked to jump in them, he couldn't do it or didn't feel safe to. So he was unable to showcase the athleticism that he showed out of the costume. He couldn't do what producer Joel Silver needed him to do for the role and he was replaced.
This certainly isn't the first time we've heard about an actor leaving a role or hating their time in it due to nightmarish makeup or costumes. James Purefoy left V for Vendetta because of the mask. He was replaced by Hugo Weaving, who didn't seem to love the makeup he wore as Red Skull in Captain America: The First Avenger. And Jennifer Lawrence's feelings about the Mystique makeup are well known. So JCVD is not alone.
We can now add Jean-Claude Van Damme's version of why he left Predator to the many existing accounts of what happened in what has essentially become a cinematic urban legend. Director John McTiernan said that they never shot anything with Jean-Claude and the whole situation was a mess because of his agent.
The visual effects supervisor on the film Joel Hynek's account is one of the more outlandish and hilarious. According to him, Jean-Claude Van Damme wouldn't stop kickboxing because he saw the alien hunter as having prodigious martial arts talents. When he was asked to stop, he refused. So producer Joel Silver fired him and JCVD fired off an insult and left.
Given Jean-Claude Van Damme's seeming willingness to laugh at himself late in his career, someone really should put together a short or an internet video with the actor about this situation. It could have a Rashomon-like structure with each of the accounts of Jean-Claude Van Damme's exit from Predator as a different chapter, with the audience left to decide where the truth lies.
Whatever happened, it all worked out for the best. Predator eventually changed the creature design for the better and became an action classic, and Jean-Claude Van Damme broke out in Bloodsport, where he was able to do all the kickboxing he wanted.
Jean-Claude Van Damme's latest film, We Die Young, is now in select theaters and on demand. Check out our 2019 release schedule to keep track of everything else you can look forward to seeing this year.
Your Daily Blend of Entertainment News
Nick grew up in Maryland has degrees in Film Studies and Communications. His life goal is to walk the earth, meet people and get into adventures. He's also still looking for The Adventures of Pete and Pete season 3 on DVD if anyone has a lead.