5 Reasons Why Jean Claude Van Damme's Bizarre New Amazon Series Is Worth A Weekend Binge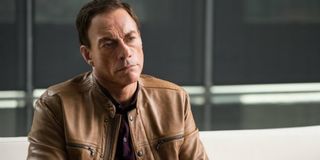 Action icons don't get much more legendary or flexible than Jean-Claude Van Damme. The Muscles From Brussels has experienced a series of ups and downs over the course of his career, but now the 57-year-old badass seems to have found new life on the small screen with his brand new Amazon series, Jean-Claude Van Johnson. Portraying a version of himself in a heightened reality in which he moonlights as a secret assassin, Jean-Claude Van Damme has never been better, and we're here to tell you that this is one new show that you absolutely need to knock out in a free afternoon this weekend.
Still don't believe us? Then let us hit you with a roundhouse kick of common sense and explain why Jean-Claude Van Johnson needs to be at the top of your binge-watch to-do list.
It's The Comeback Jean-Claude Van Damme Deserves
Over the course of the last few years, we have seen several action icons from the 1980s and 1990s find ways to come back and reform their respective pop culture images. Sylvester Stallone did this by playing into his own action image and returning to some of his most beloved characters like John Rambo and Rocky Balboa. Arnold Schwarzenegger did it by taking his performances to a somewhat darker place than we had previously seen.
For Jean-Claude Van Damme, that career resurgence took place the moment the master of the splits decided to embrace self-deprecating comedy and poke some clean fun at himself. Jean-Claude Van Johnson is the natural apex of that idea, as the Belgian martial artist shows off some great comedic chops that many of his more casual fans likely never even knew had. Van Damme is back in Van Johnson, and he is better than ever.
It's Short, Sweet, And To The Point
One major issue that routinely plagues even the best streaming properties (see: Stranger Things, and many of the Marvel Netflix shows) is the fact that pacing can become a significant issue when long episodes draw out a long season. That's not an issue that occurs across the first season of Jean-Claude Van Johnson. The Amazon original's freshman season consists of six lean half-hour episodes, each of which tells its own story, and each of which ends with a teasing cliffhanger to keep audiences interested in the next entry.
There's something to be said about a series that opts to keep it tight. In that regard, Jean-Claude Van Johnson lives up to that idea by offering a minimalist 3-hour arc that can be knocked out in an afternoon. Jean-Claude Van Johnson doesn't overstay its welcome, and that's a perfect change of pace compared to other streaming series.
It's Chock Full Of Great Surrealist Humor
We do not say this lightly: there is nothing quite like Jean-Claude Van Johnson on television. The Amazon Original Series takes an insane amount of bold swings with its storytelling, and while some of them may not pay off in the grand scheme of the first season's narrative as much as we might like, it deserves quite a bit of credit for taking as many chances as it does. Jean-Claude Van Damme is unhinged in the best possible way in this series, and he shows no fear about poking fun at his career while also engaging in some pretty weird shenanigans.
Think about it: in what other TV series could you see an aging 1980s action icon moonlight as an assassin? This show is basically if the team behind Zoolander did LSD before writing the script.
It Has A Surprising Amount Of Heart
Sure, there are plenty of jokes and ridiculous set pieces spread throughout Jean-Claude Van Johnson's first season, but at its core, it's a show with a ton of heart. Jean-Claude Van Damme portrays a broken and beaten down version of himself, and the Belgian action hero no shows fear about diving into some emotionally dense material when the series calls for it.
When JCVD isn't kicking ass or cracking wise, he's taking quieter moments to reflect on himself, his career, and the happiness that has eluded him for years, and that's something that we seldom seen in a show of this tone. Remember, Jean-Claude Van Damme is playing himself (albeit a borderline insane version of himself) on the show, and as such, every joke comes with a certain amount of self-deprecating honesty that feels earned by years of real-life ups and downs in Van Damme's career and personal life.
Season 1 Is Just The Beginning
We have already addressed the fact that Jean-Claude Van Johnson deals in cliffhanger endings. However, it also needs to be said that the conclusion of the first season leaves the show in a radically different place than the pilot -- one that leads into a potentially fantastic storyline for Season 2 that no one will see coming. We're not going to dive too far into spoiler territory (you're better off letting your brain run wild with this), but we will say that there's a certain amount of confident insanity at play behind the scenes of Jean-Claude Van Johnson.
The folks working on the series very clearly have a vision for it that will allow them to move beyond its basic premise, and that's something worth exploring. In a world of shows that often play to the same narrative and thematic beats, it's worth having something as bold and crazy as this.
Jean-Claude Van Johnson drops on Friday, December 15 on Amazon. As for the other shows that are going to debut over the next few months, take a look at our fall TV premiere guide as well as our 2018 midseason premiere guide, and listen to the most recent episode of The Cord Cutter Podcast to hear everything that we here at CinemaBlend have to say about the latest streaming content!
Your Daily Blend of Entertainment News
Originally from Connecticut, Conner grew up in San Diego and graduated from Chapman University in 2014. He now lives in Los Angeles working in and around the entertainment industry and can mostly be found binging horror movies and chugging coffee.