Quentin Tarantino's Pulp Fiction Will Be LACMA's Next Live Reading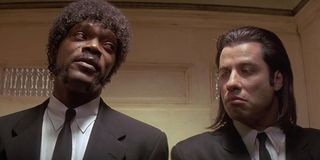 A truly great screenplay is not only a joy onscreen, but also a joy on stage. At least that's the thinking behind the growing selection of live stage readings that Hollywood heavyweights have been hosting.
Evan Goldberg, Seth Rogen's co-writer/co-director for the hit comedy This is The End, is hosting a special live event where he and a yet to be named cast will read Quentin Tarantino's Oscar-winning Pulp Fiction screenplay aloud on stage. Goldberg announced the reading on Twitter:
The event is the latest in Film Independent's Live Read series, which Jason Reitman got going. These events have proven so popular that they have expanded beyond the Los Angeles County Museum of Art, where they began, and reached all the way to New York and Toronto, where they unfolded as part of the Toronto International Film Festival. Past screenplays that have gotten recast and read live include John Hughes' The Breakfast Club, Alan Ball's American Beauty, Billy Wilder's The Apartment, Paul Thomas Anderson's Boogie Nights, William Goldman's The Princess Bride, and Joel and Ethan Coen's The Big Lebowski. Perhaps most pertinent, Reitman led a reading of Tarantino's Resevoir Dogs back two years back, and scored headlines by casting an all-black ensemble that boasted Terrence Howard as Mr. Blonde (originally played by Michael Madsen) Anthony Mackie as Mr. Pink (Steve Buscemi), Cuba Gooding Jr. as Mr. Orange (Tim Roth) and Anthony Anderson as Nice Guy Eddie (Chris Penn).
Part of the joys of these events is seeing roles we all know so well recast and given a new life on stage. Dakota Fanning took on the role of Boogie Nights' Roller Girl, filling the skates of Heather Graham. Paul Rudd stepped in for Cary Elwes to play Wesley in The Princess Bride's reading. Emma Stone followed in the footsteps of Shirley MacClaine by playing Fran Kubelik in The Apartment's staging. So who might be cast for Pulp Fiction? In the past, Reitman seemed to have his pick of actors, ever-game to snuggle into one of cinema's greatest/most beloved scripts. So it'd seem the sky is the limit. But frankly, I'd be shocked if some of Goldberg's recurring collaborators like This is The End's James Franco, Jonah Hill, Seth Rogen and Danny McBride don't pop up in this cast list. (Hey, Hill's been in a Tarantino movie. After Django Unchained, it's not so far-fetched.)
Who do you think would fit into a modern recasting?
Film Independent's Live Read of Evan Goldberg's Pulp Fiction will take place on Thursday, February 20th at 7:30PM at LACMA's Bing Theater.
Staff writer at CinemaBlend.
Your Daily Blend of Entertainment News
Thank you for signing up to CinemaBlend. You will receive a verification email shortly.
There was a problem. Please refresh the page and try again.