Raise Your Expectations: Robert Zemeckis' Flight Is Closing The New York Film Festival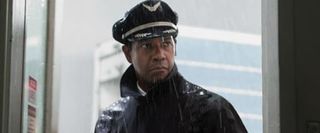 Though you have plenty of perfectly good reasons to be skeptical about Robert Zemeckis these days, you might want to raise those expectations for his upcoming movie Flight, which has just been announced as the Gala Presentation for the closing night of the New York Film Festival. The NYFF, among the most prestigious of the fall film festivals, kicks of on September 28, and Flight will be wrapping up the event with a premiere on October 14, well ahead of the film's November 2 wide release.
Announcing the film's select in the festival, selection committee director Richard Pena called it "a remarkable film about one man's journey to some of the darkest parts of his soul"-- which, I promise, is not something anyone said about Beowulf, A Christmas Carol or The Polar Express (and we're not even going to talk about Mars Needs Moms, which to be fair, Zemeckis only produced). Being the Closing Night film at NYFF isn't always the best sign-- in 2010 it was Clint Eastwood's Hereafter, but last year it was Alexander Payne's The Descendants-- but it's an honor that would have been hard to imagine for Zemeckis a few years ago, and a sign that Flight is exactly the kind of serious film, and return to form, we've been waiting for.
If you didn't catch the Flight trailer when it debuted a while back, you can watch it below, and learn more about the movie by clicking here.
Staff Writer at CinemaBlend
Your Daily Blend of Entertainment News
Thank you for signing up to CinemaBlend. You will receive a verification email shortly.
There was a problem. Please refresh the page and try again.