Reliving Oscar's Best Moment: Falling Slowly For Once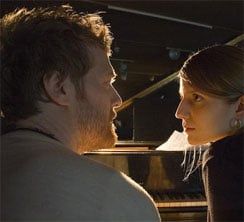 For those of you who weren't with us in CB's Oscar Chat Sunday night to hear us slobbering all over it, for a lot of us the only moment of importance during this year's Academy Awards ceremony was the performance of Oscar winning best song from Once, "Falling Slowly". Even people who haven't seen the movie seem to agree, it was just about the only Best Song performance worth watching.
On the other hand, if you have seen Once then you know that the Academy Awards somehow managed to screw it up. The beauty of "Falling Slowly" is its simplicity, and in the film it's performed by Glen Hansard, Markéta Irglová. There's no backing band or musical score, just Glen strumming his battered guitar and Markéta working magic on her piano in the back of a dusty music store. It's a brilliant moment, which could have easily been duplicated on the Oscar stage. Instead though, they chose to trick it up by adding in the orchestra, and while the song is still good, it loses a lot of the poignancy it had in the film.
Still, Once's win for Best Song was one of the night's best moments. It's the little film that everyone was rooting for, and that Best Song win means more to Glen and Marketa than another statue for the Coens does, at least to them. If you missed their moment last night, take a second, find a quiet place at home, and watch it via the embed below:
And here's Glen Hansard and Markéta Irglová winning and making their speeches. Credit to Jon Stewart for saving the day by bringing Marketa back out on his time to give the thank you speech the Academy's bumbling producers so rudely cut off:
Your Daily Blend of Entertainment News
Thank you for signing up to CinemaBlend. You will receive a verification email shortly.
There was a problem. Please refresh the page and try again.