Rio Wants To Lay On Some Woody Allen Polish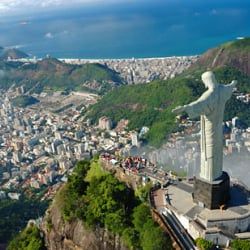 So Rio Del Janeiro will be hosting South America's very first Olympics (Beating out my home city Chicago). As well as soccer's World Cup in 2016 and 2014 respectively. And now the city has another big goal: Get veteran director Woody Allen to make a film in Rio, to help pretty up the country's image a bit. They're basically hoping this next movie will have the same effect on Rio that Vicky Cristina Barcelona did on its titular city.
The Los Angeles Times reports that Woody has been offered two million dollars to come make his next film in Brazil. This is a pretty big deal, considering film productions have been very sparse in the country that hosted shoots of Moonraker and the upcoming Stallone vehicle The Expendables. The country has never really been friendly to tourism or filming, given the rising crime rate over the last decade. But now that there's more oil and more Western influence, maybe they'll get something done?
Come to think of it... as I look through the list of films that were shot in Rio... nearly all of them include spies, giant explosions, big guns, and people getting kidnapped. Apparently things that are all too common around those parts. Not exactly the "Mary Sunshine" image you want to present the world if you want them to shell out big bucks for travel. Just maybe Woody can work his Vicky Cristina-style magic in the city of the giant Jesus.
Your Daily Blend of Entertainment News
Thank you for signing up to CinemaBlend. You will receive a verification email shortly.
There was a problem. Please refresh the page and try again.