Woody Allen Claims Timothee Chalamet Cut Ties With Him For An Oscar Bid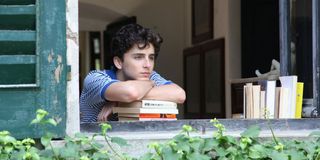 It's been a tumultuous few years for Woody Allen, yet he's back on the scene now with a tell-all book describing his version of events as he says they've played out over the years. The new book, called Apropos of Nothing, includes a chapter in which Allen discusses Timothee Chalamet cutting ties with him after they filmed Rainy Day together. According to Allen, it was all a ploy for an Oscar bid.
The year old accusations against Woody Allen in regards to his daughter Dylan Farrow resurfaced was the same year that Timothee Chalamet starred in Call Me By My Name opposite Armie Hammer. It's also the year Chalamet promised his salary from his work with Woody Allen on A Rainy Day In New York would go to Times Up and other organizations. Per Allen, this was just a Hollywood power play. He wrote:
The quote, which comes from an Apropos of Nothing excerpt (via EW) also mentions Woody Allen saying he "didn't regret working with" Chalamet. The actor has not commented on Allen's take.
A Rainy Day in New York also starred Rebecca Hall, Selena Gomez, Jude Law, Diego Luna, Elle Fanning and Liev Schreiber. The movie was supposed to be released on Amazon in 2019, but the company ultimately opted to shelve the movie and not give it a release. It marked the first time in decades a Woody Allen film did not get released in a given year. It did release elsewhere in the world, including in Europe and South America.
Meanwhile, Timothee Chalamet was not the only one to give away his earnings from his movie. Rebecca Hall also donated hers to Times Up. Selena Gomez in addition has given money to Times Up's Legal Defense Fund. For his own part, Woody Allen has aggressively declared his innocence regarding allegations made by his ex-wife, daughter and other family members numerous times.
Timothee Chalamet did earn an Oscar nod in 2018, but the nomination came after he made the announcement about his working relationship with Woody Allen. He did not win the Oscar for Best Actor, losing to Gary Oldman (and his epic embodiment of Winston Churchill) in Darkest Hour.
Apropos of Nothing had a little trouble getting published after Hachette Book Group dropped it, but ultimately hit shelves on March 23, 2020 after being released by Arcade Publishing. The contents of the book span Woody Allen's early life through the high points of his career and his various relationships.
Amazing Race & Top Chef superfan with a pinch of Disney fairy dust thrown in. If you've created a rom-com I've probably watched it.
Your Daily Blend of Entertainment News
Thank you for signing up to CinemaBlend. You will receive a verification email shortly.
There was a problem. Please refresh the page and try again.