Rise Of The Planet Of The Apes Conquers Blu-Ray This December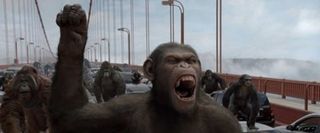 Did anybody expect Rise of the Planet of the Apes to be any good? I know I didn't. While the newest Apes flick featured a solid cast, including James Franco, Freida Pinto, John Lithgow, and Brian Cox. Even more exciting was the involvement of motion-capture wizard Andy Serkis in portraying Caesar, the ape whose artificially accelerated intelligence starts all the trouble in the first place. Still...it was Planet of the Apes, not a franchise with an auspicious record in recent years.
Imagine our surprise, then, when Apes reviews started coming in, and they were mostly positive. Against all odds, Rise of the Planet of the Apes seemed to be not just a good summer popcorn flick, but a good movie, period. For those of us who weren't convinced early enough to check out the movie in theaters, Rise of the Planet of the Apes will be coming to Blu-ray, DVD, and digital download this December 13th from Twentieth Century Fox Home Entertainment. Fans of the flick should be excited, because the Blu-ray looks to be fairly packed with content.
In the new Apes flick, James Franco plays Will Rodman, a neuroscientist working on a cure for Alzheimer's disease by attempting to increase the intelligence of chimpanzees (no, I'm not sure how this would help cure Alzheimer's). He bonds especially with an ape named Caesar, who is unfortunately ripped away from Will and taken to a primate facility. Inside the lock-up, Caesar's intelligence continues to spike and he begins plotting...wait for it...the Rise of the Planet of the Apes!
Here's the breakdown of what you'll get on the disc.
Rise of the Planet of the Apes Blu-Ray
Feature Film
Alpha Gets Shot
Will's Meeting with Lab Assistants
Will Discovers Caesar Has Solved Puzzles
Caesar Plays with Bicycle
Caesar Questions His Identity
Caesar Bites Off Neighbors Finger
Will Ignores the Risks of an Airborne Mutated Virus
Rodney Gives Caesar a Cookie
Rocket Gets Hosed by Dodge
Caesar Destroys the Lab and Koba's Attempted Revenge on Jacobs
Caesar Pushes Helicopter
Koba with Shotgun
Pre-vis for the Future
Capturing Caesar -- Script to Screen
Studying the Genius of Andy Serkis
Multi-Angle: Rocket Cookie Scene
A New Generation of Apes
Breaking Motion Capture Boundaries
Breaking New Sound Barriers: The Music and Sound Design of Rise of the Planet of the Apes
Chimpanzee
Gorilla
Orangutan
Audio Commentary by Director Rupert Wyatt
Audio Commentary by Writers Rick Jaffa and Amanda Silver
Character Concept Art Gallery
Three Theatrical Trailers
Your Daily Blend of Entertainment News
Thank you for signing up to CinemaBlend. You will receive a verification email shortly.
There was a problem. Please refresh the page and try again.