New Robin Hood Trailer Turns Lambs Into Lions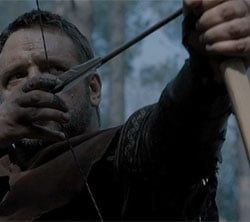 The full trailer for the Ridley Scott directed Robin Hood movie has arrived, and it brings with it the claim that it delivers "the untold story" of the man who became the legend. That suggests there's something new here, something we haven't seen in the dozens upon dozens of other Robin Hood retellings which have already been made. If Ridley really has discovered some new twist on this tale, it's not in evidence in this trailer.
Instead what we get is a lot more of what you expect. A lot of noble talk of justice, people shooting arrows, Robin Hood looking brave (and older than he ever has before) while making speeches and leading the charge. Actually if there's anything different in this Robin Hood take it's that it seems at some point Robin Hood trades in his band of Merry Men for a full fledged army. While that might be new to the Robin Hood tale, the massive cavalry charge against an opponent is definitely something we've seen before, and a lot of it.
So here's the new trailer. See it in HD on Yahoo or see it embedded below. Watch and get excited. It may not be particularly fresh, but Robin Hood never really gets old.
Your Daily Blend of Entertainment News
Thank you for signing up to CinemaBlend. You will receive a verification email shortly.
There was a problem. Please refresh the page and try again.