Robocop Cast May Include Edward Norton, Rebecca Hall, Gael Garcia Bernal & Sean Penn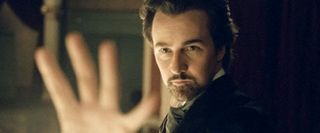 With Joel Kinnaman confirmed for the lead role, Jose Padilha set to direct and Sony on board to distribute it, the primary mysteries of the Robocop remake have been solved. But of course, Kinnaman needs a supporting cast to back him, and since he's largely an unknown actor, it's not surprising to see that the studio wants some bigger names to sign on board and join him.
A rumor at The Tracking Board-- a site with a so-so reputation for getting scoops right, so keep that in mind-- Edward Norton, Rebecca Hall and Gael Garcia Bernal are all considering roles in the film, with "strong interest" for Sean Penn to also sign on board. The roles all fit vaguely into the framework of the original story, but aren't exact matches for the previously existing characters. Norton would play a character actually named Norton, who helps bring the Robocop to life; Rebecca Hall would play the former wife of the cop Murphy who is turned into Robocop after his death, while Bernal would play his former partner who starts up a relationship with the widow. Penn's role would be a right-wing news reporter who presumably gets involved in the central plot somehow.
Will any of these people actually wind up in the cast? There's really no telling, since even if The Tracking Board has their story right, all of these actors seem so tentatively connected that anything could change. Penn, especially, tends to be incredibly picky in choosing his roles, and while the famous liberal would be a fascinating choice to play a right-winger, it's unclear if he has the required sense of humor to play off his own image. But keep these names in mind as Robocop gets closer to a production start, and if any of them turn out to be correct, you knew it all along.
Staff Writer at CinemaBlend
Your Daily Blend of Entertainment News
Thank you for signing up to CinemaBlend. You will receive a verification email shortly.
There was a problem. Please refresh the page and try again.