Roland Emmerich Could Direct The Atari Asteroids Movie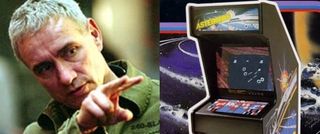 After making the mother of all ridiculous world-ending disaster movies with 2012, Roland Emmerich seemed to be moving away from his explosion-friendly wheelhouse-- his next film Anonymous, as evidenced in the truly bizarre first trailer, seems to be a pretty serious take on the authorship issues behind Shakespeare's most famous work. But never say never, especially when it comes to a director who's been vocally planning a sequel to Independence Day for years now. According to Vulture the German director with an appetite for destruction is considering taking on Asteroids. Yes, it's based on the Atari game and is coming from Transformers Lorenzo di Bonaventura. No, there's no punchline after this.
Though really, you might want to spare Emmerich your jabs, since technically he's not destroying the world this time-- that's all taken place before the movie even begins. In order to turn the very, very simple Atari game of Asteroids into a film, Universal has cobbled together a story about the human population forced off Earth by alien invaders, the survivors sent to live in an asteroid belt alongside aliens they were told were friendly, but who have in fact "engineered Earth's destruction, and soon will do the same for the rest of humankind." The script comes from Matt Lopez, who wrote Disney's Race to Witch Mountain and presumably knows from goofy alien-themed adventures.
Universal has only offered the project to Emmerich, and who knows, maybe Will Smith will finally cooperate and agree to make that Independence Day sequel, meaning he's no longer available. But having gotten a lot of guilty delight out of 2012, Emmerich seems about perfect to handle Asteroids, a giant space movie so unconcerned with taking itself seriously that it's based on an Atari game. Not to judge his forthcoming Anonymous too harshly-- really, you must watch that trailer-- but I have a feeling this one will be a lot more fun.
Staff Writer at CinemaBlend
Your Daily Blend of Entertainment News
Thank you for signing up to CinemaBlend. You will receive a verification email shortly.
There was a problem. Please refresh the page and try again.