Rooney Mara Cast As Lisbeth Salander In The Girl With The Dragon Tattoo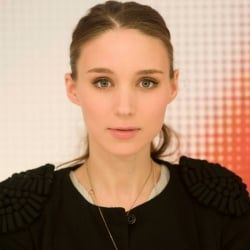 The casting demolition derby is finally over, and the American Lisbeth Salander has at last been selected. Sony announced today that Rooney Mara has been cast opposite Daniel Craig in The Girl With The Dragon Tattoo, an English-language adaptation of Stieg Larsson's novel that's set for release in December 2011. 25-year-old Mara starred in A Nightmare on Elm Street earlier this year but probably more importantly will appear in this fall's The Social Network, which was also directed by Dragon Tattoo helmet David Fincher.
Fincher was reportedly on a global hunt for the right Lisbeth, auditioning both unknowns and A-list actresses to the point that basically every actress under the age of 30 was at one point rumored to be getting the job. Mara has been in the running at least since last July, and last we heard was up against French actress Lea Seydoux for the role. Production starts next month in Sweden, so it's probably a good thing she's spent so long auditioning for the role-- she already knows exactly where she'll put the piercings and the fake tattoos.
The Girl With the Dragon Tattoo and its two follow-ups, The Girl Who Played With Fire and The Girl Who Kicked The Hornet's Nest, is one of the more bizarre literary success stories of recent years, given that all three books describe in detail rape, murder and extreme violence against men and women alike. All eyes will be on Mara as she tackles the complex, harsh and brilliant character of Lisbeth Salander, the guarded and violent computer hacker at the center of all three novels. It's exactly the star-making role any young actress would hope for; now we all have to watch to see if Mara can take advantage of it.
(Photo credit: Merrick Morton)
Your Daily Blend of Entertainment News
Staff Writer at CinemaBlend