Rooney Mara, Lea Seydoux And Scarlett Johansson For Dragon Tattoo?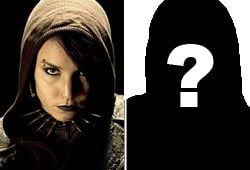 The question of who will be "The Girl with the Dragon Tattoo" seems to be on everybody's mind these past few weeks, as the start date fast approaches for David Fincher's adaptation of the Swedish novel of the same name. The director has been holding casting sessions and mulling over some out-there names for weeks now, and he may finally be closing in on a finalist
Over the weekend we heard once again that Fincher is leaning towards selecting a "fresh face" to star along side his Mikael Blomkvist, Daniel Craig. The NY Post claimed that both Rooney Mara, who gave a passable performance in the otherwise unwatchable Nightmare on Elm Street remake, and Lea Seydoux, one of the beautiful LaPadite daughters in Inglourious Basterds, are still in the running after Fincher eliminated big names like Natalie Portman and Emma Watson, who both tried out for the role.
Then on the hand hand, the NY Daily News has it that should the Fight Club director not go with a no-name for the role, well-rounded actress Scarlett Johannson is a "shoo-in" for the part, and she wants it bad. We recently learned that she can handle herself in a fight, as she whooped a decent amount of ass in Iron Man 2, but there's some stuff in Dragon Tattoo that may not fit with her. Like rape. A whole bunch of rape.
Selecting Johansson could put butts in the seats given that Noomi Rapace, who played Lisbeth in the Swedish film adaptations, spends a fair amount of time naked in the throes of passion with other women. But Johansson doesn't resemble the althetic, less-than-curvy Lisbeth Salander even a little, and she just isn't the tough-as-nails lead the series deserves. Fincher has it right by selecting a fresh face, but so fare the faces he's selected seem too fresh, not worn enough to fill shoe shoes of Lisbeth, who kicks the ass of pretty much anyone who gets in her way.
If you can't wait for this version to hit theaters next December, make an effort to find the Swedish version of the film. It's amazing even though its follow-up, The Girl Who Played With Fire, is less impressive.
Your Daily Blend of Entertainment News