This Rotten Week: Predicting The Martian Reviews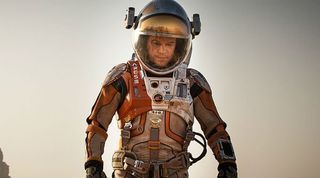 There's only one movie on the docket this week, one step taken further into the depth of the fall season, but it looks like a good one. Matt Damon settles down for an extended stay on the Red Planet in The Martian.
Just remember, I'm not reviewing these movies, but rather predicting where they'll end up on the Tomatometer. Let's take a look at This Rotten Week has to offer.
Rotten Watch Prediction
If I were stranded on Mars for a period of time, I would need exactly three things to survive: Ben and Jerry's Cake Batter Ice Cream, The Wire Box Set and an audio recording of James Earl Jones saying "
[[ ahref https www.youtube.com ]] This is CNN" to relax and put me to sleep at night. That's it. I don't think I would need anything else to survive on the harsh conditions of the Red Planet. I'd be just like the main guy in Ridley Scott's The Martian: Just a couple of survivalists making the most of rough conditions.
See how Matt Damon does it in the trailer for the film below:
Because it's scientific fact that men are from Mars and women are from Venus, it makes sense that we get a dude stranded alone on the planet. He's forced to survive on only his wits, technical know-how, ingenuity and Southie Boston tough guy charm. It's a perfect Damon vehicle. He's forced to grow his own food, figure out a way to make water, and ultimately communicate back to old Mother Earth that he's still alive. In some ways it looks like Castaway if Wilson was a Thermal Micrometeroid Garment to protect against the harsh environments of space.
Based on the self-published novel of the same name by Andy Weir, The Martian looks fantastic. Early reviews are overwhelmingly positive, with the film sitting at 94% on the Tomatometer. Only a few so far have thrown in a negative review, with most critics going ga-ga over both the movie's technical know-how as well as the emotion surrounding Damon's survival and the plan of his crewmates working to get him off of Mars. This one will finish with high marks for sure.
That's great news, as it appears to mean a return to form for director Ridley Scott. Scott's had a long career with a ton of classics on his resume like Blade Runner, Alien and Gladiator. But he isn't without fault. Dude's put up quite a few stinkers in the directorial department, especially in the near term. Flicks like The Counselor (35%) Exodus: Gods and Kings (27%) bombed heavy. So he isn't teflon. But this flick gets back to old Scott.

This poll is no longer available.

All in all, last week was a strong one for the Rotten Watch, with two out of three movies hitting the mark, and one just missing. First off, The Intern (Predicted: 48% Actual: 56%) finished right in range with prediction as critics were lukewarm on the film. Most reviews trended along the lines of "cute enough" but without any real story. Critics generally agreed De Niro and Hathaway had solid chemistry and shared the screen well, but the flick lacked any real weight.
Meanwhile, in a movie that's not exactly the recruitment video for Greenpeace, The Green Inferno (Predicted: 43% Actual: 39%) finished right in line with most horror movies. I very much doubt this was made for any kind of critical crowd. Instead, Eli Roth was most likely working the horror/gore crowd into a frenzy with a group of student activists stranded and subsequently eaten (or at minimum killed in decidedly horrific ways). Roth knows his crowd and his movies follow form. Critics seem to at least acknowledge as much while also giving the flick lower marks.
And finally, Hotel Transylvania 2 (Predicted: 30% Actual: 46%) was a miss. I'm not so worried about this because this flick and its predecessor feel like they were made to be forgotten. I suspect in five years you'll come across this on some kid's cable channel and wonder, "Oh, is this a made for TV Halloween movie? Maybe my kid will like it."
Next time around we've just got Pan and The Walk. It's gonna be a Rotten Week!
Doug began writing for CinemaBlend back when Terminator: The Sarah Connor Chronicles actually existed. Since then he's been writing This Rotten Week, predicting RottenTomatoes scores for movies you don't even remember for the better part of a decade. He can be found re-watching The Office for the infinity time.
Your Daily Blend of Entertainment News
Thank you for signing up to CinemaBlend. You will receive a verification email shortly.
There was a problem. Please refresh the page and try again.