Russell Crowe Directed A New Movie And It Looks Epic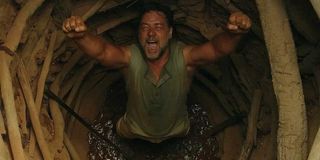 As one of the most prestigious acting talents of the last 20 years, Russell Crowe has worked under some of modern cinema's most lauded and respected directors in the shape of Ridley Scott, Darren Aronofsky, Michael Mann, and Peter Weir. Along the way he's probably learned quite a lot from these filmmakers, and now he's set to put these skills to the test with his directorial debut, The Water Diviner, the first trailer for which has just been released and is available to view above. And you know what? It looks epic, to say the least.
So what does Crowe's cinematic assault entail? He stars as an Australian farmer by the name of Connor. It's 1919, and the Great War has finished. It's also almost three years since the Battle Of Gallipoli culminated, which his three sons fought in and failed to return from. So Connor sets out to Turkey to find his missing boys.
The trailer implies that flashbacks will also be a key feature of the film, and will be used to explore Connor's past relationship with both his children and his wife, who it appears he has a rather tumultuous relationship with. Is she dead? I'd hazard a guess to say that it was her dying wish for Connor to find their children, which is what has spurred him on his epic journey. Plus, with her out of the picture, this will allow Russell Crowe to get some titanic flirting under his belt with former Bond girl, Olga Kurylenko, who joins him on his foray into the unknown.
The trailer suggests that Crowe has a steady hand when it comes to directing. It possesses some striking visuals, especially of the sandstorms as they whisk towards camera, and it certainly looks as though it will have a sweeping narrative that will take it to various exotic locations, while there are also hints that it'll be grounded by its relatable tale of his father looking for his boys. All of which are traits that are reminiscent of each of the aforementioned directors he has worked under before.
The Water Diviner should also benefit as it's one of the first films to have been released since the globe marked the centenary of the start of the First World War, while the fact that its narrative revolves around events that have seldom been seen before on the big-screen should also work in its favor, too.
None of that will matter if The Water Diviner eventually proves to have floundered under Crowe's direction. While you can't begrudge the experienced, Academy Award-winning actor for deciding to jump behind the lens, there have been several warning signs, most notably Ryan Gosling, that some wannabe directors should have just stayed the other side of the camera. Early signs for The Water Diviner are that Crowe won't fall in to that category, though. We shall see.
Your Daily Blend of Entertainment News