SXSW: Forgetting Sarah Marshall Reviewed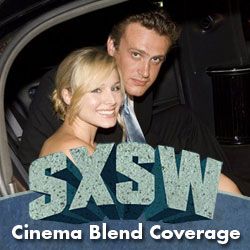 One of the weird things about SXSW is that the longer the festival goes on, the less people seem to be interested in doing… well… much of anything except wander around drinking. The problem you see is that Austin is a hella fun town, and the festival's laid, back, awesome atmosphere is conducive to slacking off and staying pretty much sloshed all day long. So by the time it was Forgetting Sarah Marshall's turn to have its big premiere on Monday night, four days of drunken festival going had apparently taken it's toll on the cast. They cancelled the red carpet, wandered onto stage for literally ten seconds before the film to introduce it, and were never seen again. Presumably they were off somewhere at a party that everyone sitting in the theater might have wished they could be at… if the movie itself hadn't been so damned good. Parties are great and all, but I'm glad I stayed sober and in my seat to laugh my ass off at Forgetting Sarah Marshall.
It's the latest creation from yet another of Judd Apatow's rising star pupils. Forgetting Sarah Marshall is written by and stars Jason Segel, who you may remember as the hilarious, lovable best friend on Freaks and Geeks, Undeclared, and How I Met Your Mother, or in Knocked Up. Segel, like everyone who Apatow works with on a repeat basis, is another one of those up and coming comedic gems, and this is his coming out party.
His script is smart and funny, and it tackles a topic others have tried to make work in comedy and failed at. The Farrelly Brothers tried something similar last year for instance, with The Heartbreak Kid, and it really sucked. Segel takes the notion of a guy stuck on vacation with two women he's interested in and makes it not only laugh-out-loud consistently funny, but occasionally heartwarming and sweet.
Part of it is Jason's performance. He's just one of those guys you see on screen and instantly love. His doughy, gawky, well-meaning persona serves him well here as Peter Bretter, a sensitive guy recently dumped by his celebrity girlfriend Sarah Marshall (Kristen Bell). Viggo Mortensen had to fight naked, Jason Segel has to get dumped naked, and the result is one of the movie's many obligatorily hilarious Segel dick shots. Male genital exposure appears to be turning into a regular thing for every Apatow produced project. He's bringing penis back.
To get over Sarah, lovesick Peter decides to go on a vacation. He choose a spot in Hawaii, and when he shows up he finds Sarah there with her new, dimwit, cocksman rockstar boyfriend Aldous, played brilliantly by Russell Brand, whom I'm not entirely convinced was acting. While he suffers, Peter develops a relationship with the hotel manager, played by cuter than ever Mila Kunis, and sparks fly back and forth between the four of them as they're repeatedly forced into spending time with one another by the dictates of polite society and circumstance. Peter's ups and downs drive the movie's comedy; he's a lovable schlub who it's hard not to root for.
Where this movie goes right and I think so many others like it have gone completely wrong, is in its refusal to cast anyone as a villain. The Farrellys always go out of their way to make one of their characters an asshole, as if we need someone to wish death on in order for them to make a joke. There is no real bad guy here, the interesting thing is that everyone involved is actually pretty likable. All of the characters written into Segel's script are the sort of people you'll love spending time with, and even when you're laughing at them you're still rooting for all of them. Forgetting Sarah Marshall is a hard-R, raunchy comedy in the vein of some of the great stuff Judd Apatow has written in recent years, and while it may not be quite as good as those Apatow masterworks, Segel seems well on his way to becoming a worthy Apatow apprentice.
Your Daily Blend of Entertainment News