Se7en Directed By Guillermo Del Toro?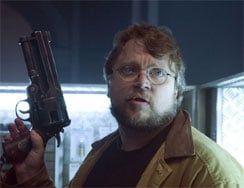 File this under what might have been. Guillermo del Toro says he was offered, and turned down the movie Se7en. Instead it went to David Fincher and played a big part in making him the household name he is today. Just think, if Guillermo had said yes, we might never have gotten Fight Club.
Guillermo talks about why he passed on the project in an interview over on RottenTomatoes, where he tells them that he loved the Se7en script, "but it was a very cynical view of the world. I loved it, I wanted to see it, but I'm a romantic, fat bastard and I don't subscribe to that view."
Maybe it's not as evident in Pan's Labyrinth, but Guillermo's squishy, romantic side definitely comes through in Hellboy and Hellboy II. In the interview he also talks about Blade II, which he admits he only took as a stepping stone towards getting Hellboy done. Hop over to RT to get the rest of his interview.
Your Daily Blend of Entertainment News
Thank you for signing up to CinemaBlend. You will receive a verification email shortly.
There was a problem. Please refresh the page and try again.