See Classic Star Wars Remade Force Awakens Style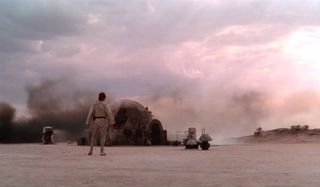 The internet has awakened the force, with an overload of incredible Star Wars: The Force Awakens trailer spoofs and they keep getting better and better. Recently, one fan decided to take a new look at the classic Star Wars: A New Hope in the style of The Force Awakens trailer. Take a look:
The video seamlessly cuts scenes from Star Wars: A New Hope into a trailer that works perfectly for the original movie while fitting the sound bites from the Star Wars: The Force Awakens trailer. It's pretty incredible that scenes from the classic 1977 Star Wars film match up so well with the new trailer. We start out with an expansive desert scene, just as The Force Awakens trailer did. Then as the heavy breathing comes in, we see Luke Skywalker, who isn't going through the motions of being out of breath that John Boyega's character in the new trailer does, but we can imagine that seeing your home destroyed is a heavy weight that could cause similar reaction.
And then the droid scene. In the Star Wars: The Force Awakens trailer, we were introduced to a new rolling droid with similar sounding beeps to our classic old friend, R2D2. So it does not seem out of place to insert that sound bit over a rolling R2D2.
The faulty lights with a group of stormtroopers on the ready to attack lines up perfectly as well. Then, when Luke hops into his landspeeder, and kicks into gear, we get a distanced scene of him driving away in a desert scene (exactly like Daisy Ridley in her land cruiser in the Episode 7 trailer). In case some of this isn't ringing a bell, take another look at The Force Awakens trailer below.
I think one of my favorite scenes in the spoof is the X-Wing Pilot. It is the same exact camera shot in The Force Awakens trailer, a straight on headshot. Check out how similar the two are.
I think JJ Abrams felt just a tiny bit inspired by the classic.
The clip also includes a less ominous villain scene, and Millennium Falcon money shot. The classic version of the trailer isn't quite as detailed as the new movie promises, but the similarities between the two leave you wondering how much of the new movie is going be just modernized versions of what the original Star Wars introduced. We'll see when Star Wars: The Force Awakens hits theaters on Dec. 18, 2015.