Star Wars: 3 Big Things We Just Learned About Lupita Nyong'o's Character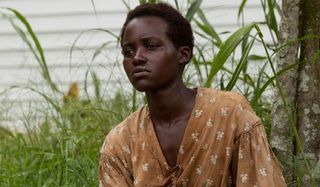 It's been a rather busy few days for Star Wars fans. Fresh, piping hot news regarding Star Wars: The Force Awakens has been spilling out, providing us with tantalizing teases and revelations regarding the blockbuster's cavalcade of characters.
One character that we're all anxious to hear more about is Lupita Nyong'o's Maz Kanata. Information regarding the Academy Award winner's performance and character has previously been at a minimum. But while talking to Entertainment Weekly, director J.J. Abrams gave us a hoard of new information regarding Maz Kanata, all of which you should instantly devour below.
She Was Featured On The Poster, And Talks In The Trailer
Yep, that's her above next to R2-D2. All of this time, while we've been dreaming up different versions of the character in our minds, Maz Kanata has been hiding in plain sight on the recent poster for Star Wars: The Force Awakens. She's tiny, wearing a rather fetching pair of goggles, and is even sporting a devilish smile.
Confirming that it was Maz Kanata, J.J. Abrams declared:
But that's not all, because Abrams also confirmed that Maz Kanata spoke in the trailer. Although we're still not sure who she was talking to, we know that she remarked, "I have lived long enough to see the same eyes in different people. I see your eyes. I know your eyes." Clearly, Maz has some weird eye fetish going on.
She's More Than 1,000 Years Old
Unlike John Boyega and Daisy Ridley, whose youthful features and glow are seemingly a perfect mash with their characters, 32-year-old Lupita Nyong'o's Maz is clearly much more experienced. Abrams gave us our most in-depth description of Kanata yet, revealing:
Does this mean that she's already had some locals and patrons that we're already familiar with in her establishment? One can only assume that's the case. I'm going to predict that she's had to kick Yoda out for drunk and disorderly conduct on at least a dozen or so occasions. He's too diminutive to be able to handle his drink. Plus he always sounds like he's drunk, anyway.
Her Story Will Unfold In Upcoming Star Wars Movies
From the sound of things, Lupita Nyong'o's Maz Kanata is going to be a firm fixture in the upcoming expansion of the Star Wars universe. Both Nyong'o and Abrams refused to be drawn on any further details regarding her backstory, but the director did tease:
Will that be in episode 8 and 9? Or in the impending anthology tales? Or will Maz Kanata's story instead be fleshed out in books and video games? Probably a combination, or all of the above. Because when you sign up an actress as supremely talented as Lupita Nyong'o to your franchise, you make sure that she is in it for the long haul.